Let's just ignore the fact that I never posted for week 3, 4 or 5 for the Fall One Room Challenge. I just wasn't feeling it, but now it's finally finished and time for the big reveal! [Week one is here and week two here.]
First a big thank you to Linda from Calling It Home and Better Homes and Gardens for sponsoring the One Room Challenge!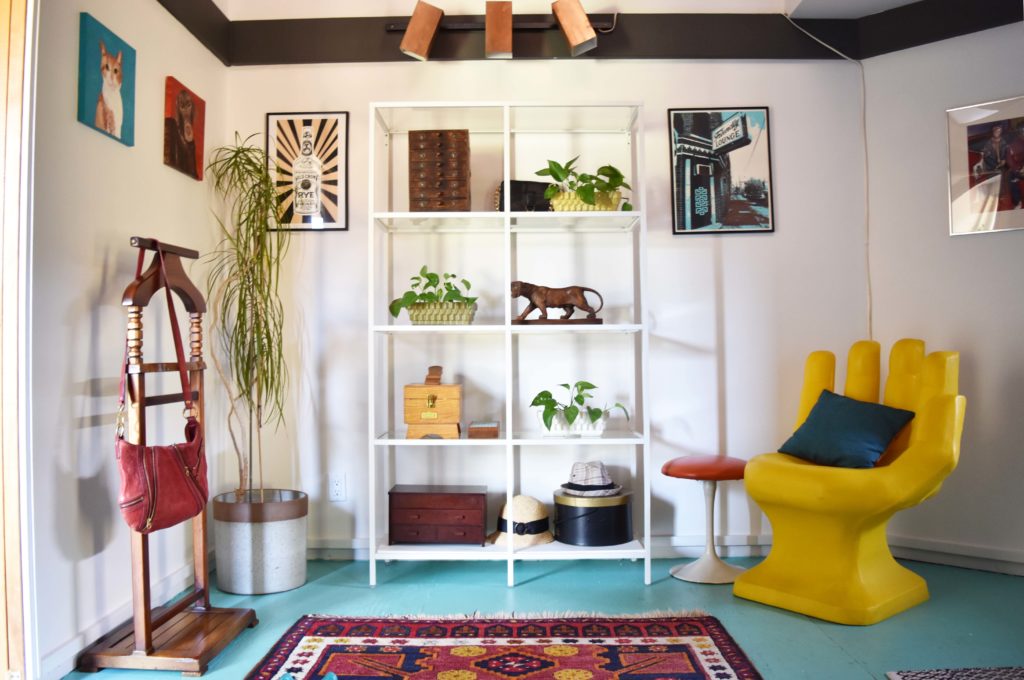 The room turned out nothing like my initial design, but I love it. It's definitely bold and colorful and cool. The initial design was based on getting new carpet (which won't be installed for a couple more weeks), and using part of our living room sectional. We never did get a new living room couch, so I couldn't use the old one. Since I wanted to spend as little $$ as possible I just used what I already had. Luckily I have a little smidge of the hoarding gene, so I had a lot to work with.
I re-painted the walls in my favorite white, Marshmallow and the trim in Urbane Bronze by Sherwin-Williams.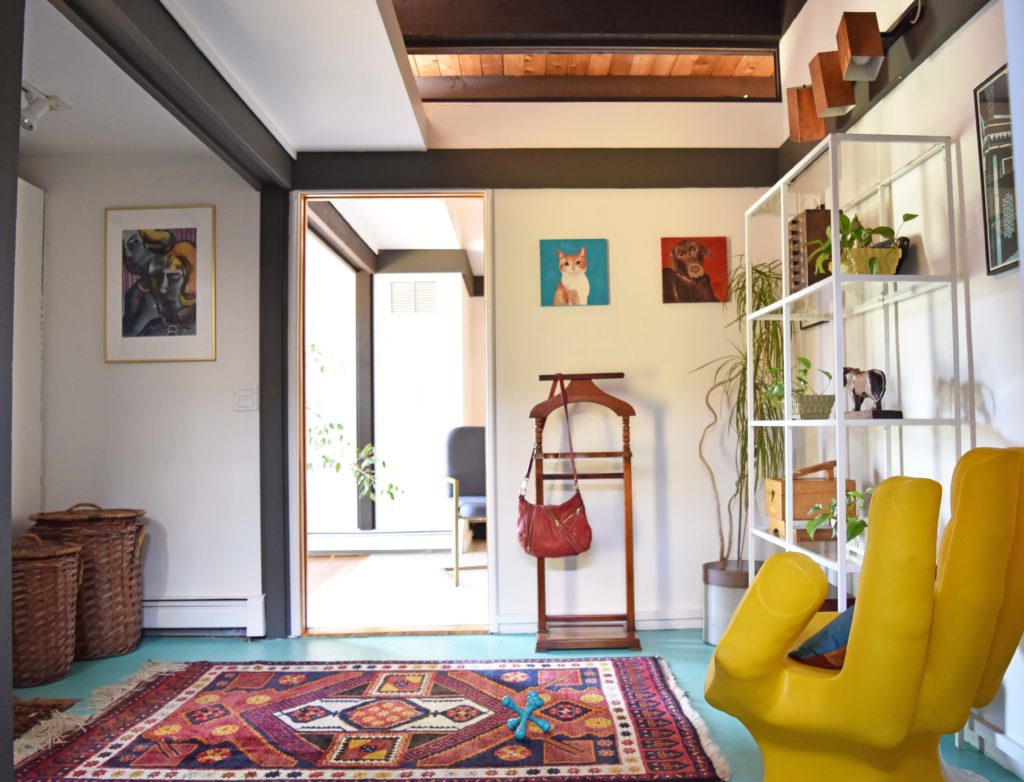 The only new thing that I purchased was knobs for the sink area and dresser. I contemplated replacing the dresser with a vintage mid century modern one, but it has too many memories so I decided to keep it. The dresser was one of the first pieces of furniture we bought for our first house, 17 years ago! We bought it unfinished and stained it this dark walnut shade. It still works great and has held up really well. I switched out the knobs for a white MCM vibe that I found on Etsy from HuntGatherVintage. The dresser was moved to the built in cubby area, where it just so happened to fit perfectly!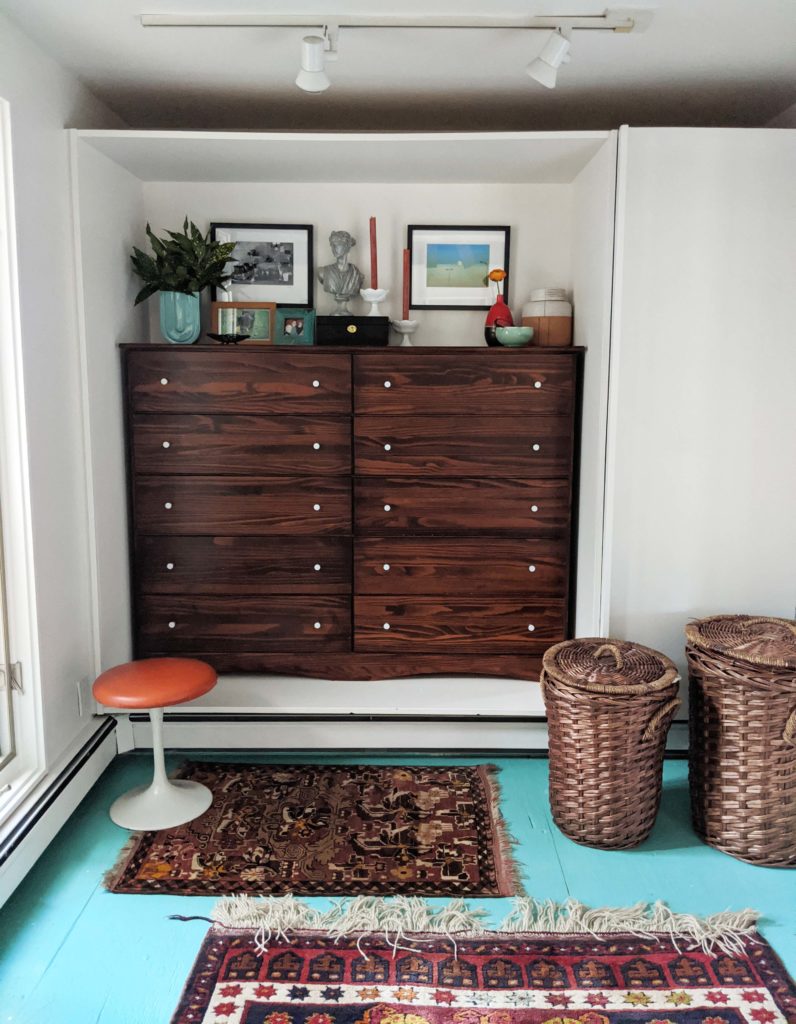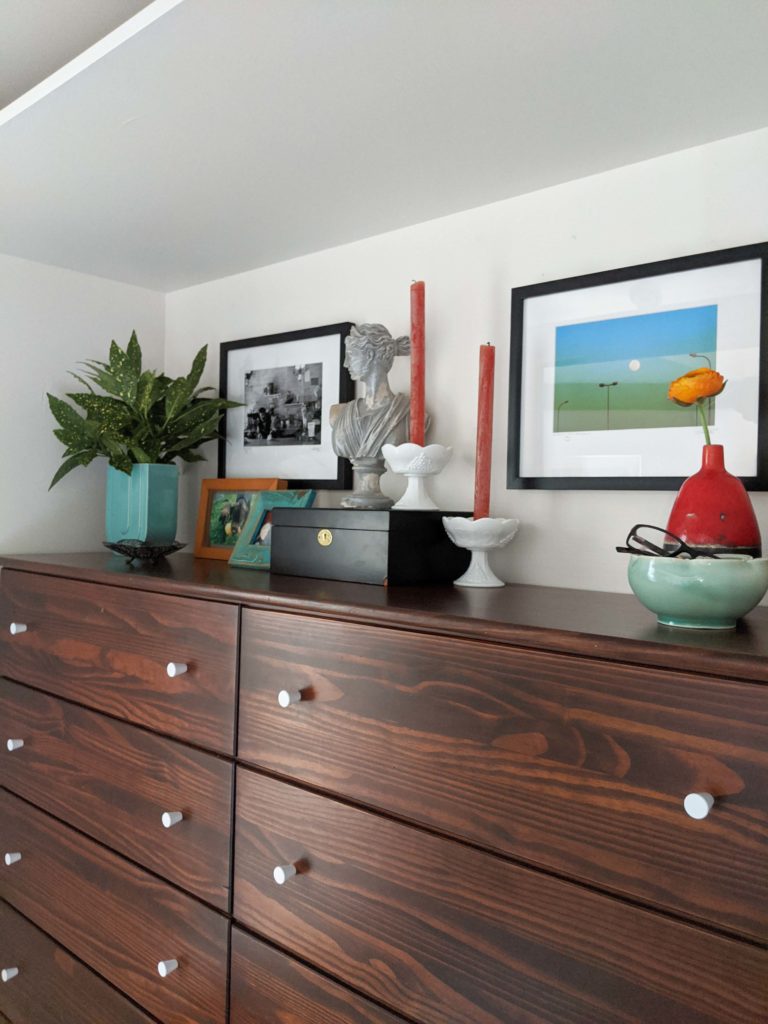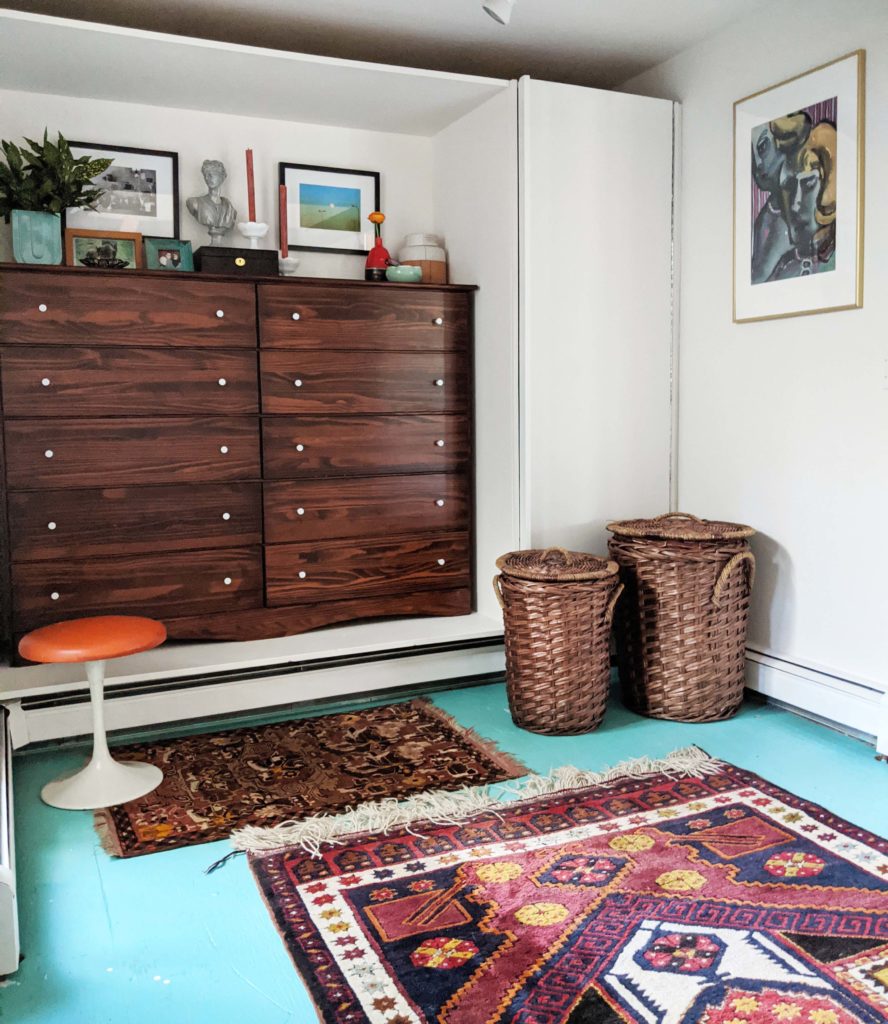 The other main pieces I used was this Ikea shelving unit which I initially bought for my Brand-Eye Home shop and the Yellow Hand chair, which was a craiglist find. The rugs I moved from all of the other areas of the house and I'll return them once we get the carpet. Although, I do really like them in this room.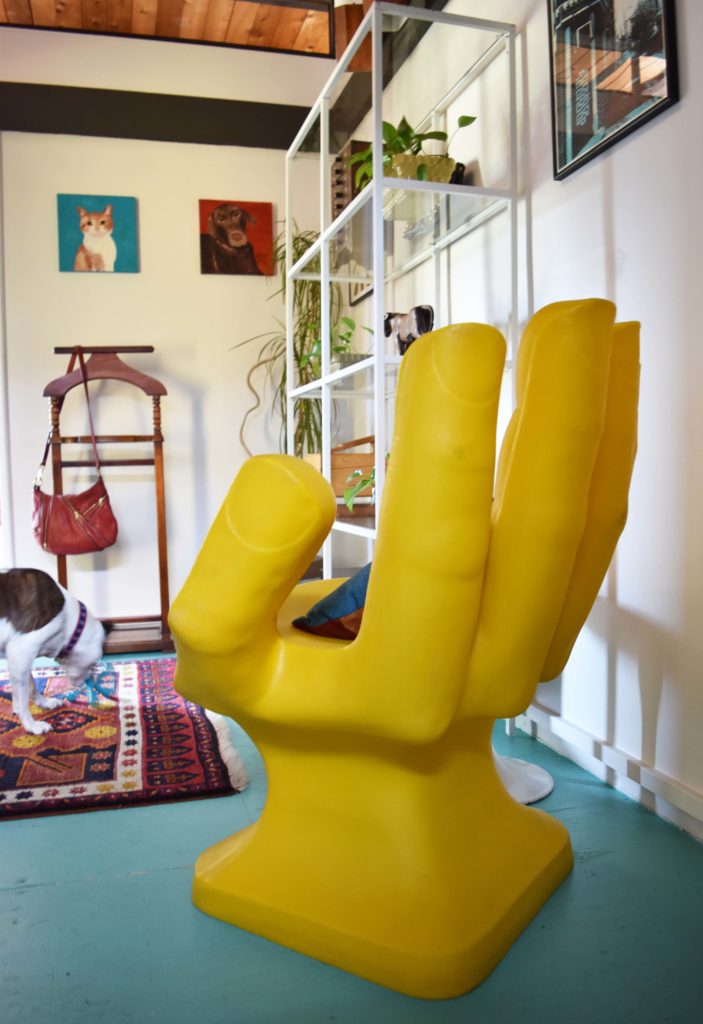 As I was taking pictures of the room, Winnie was trying her hardest to get me to play with her. It was adorable.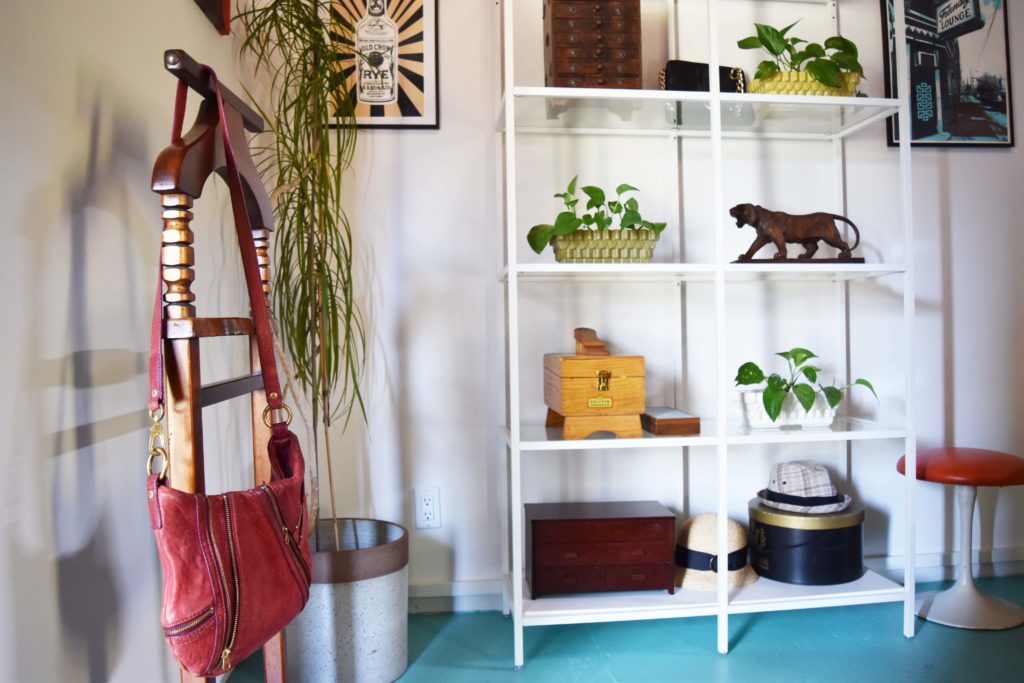 I was going to get rid of this clothes valet, but I am glad I didn't. We never really use it, but it looks cool so it can stay.
Below is a sneak peek into the bathroom. This room is the mirror image of our bedroom. I redecorated the bedroom for the Spring 2018 One Room Challenge, which you can find here.
The reason for the mirror in front of the large mirror is that the large one is damaged and has that old, hazy mirror problem. As a solution, I just placed another one in front of it.
What do you think? I especially love that I used a lot of the artwork that I just had laying around. As you know, I switch up the decor in my house often and seeing it in new spots makes me happy. This Pink Bike Ralph Friendly Lounge screenprint is a personal favorite. The pet portraits I painted a long time ago and are of our pets at the time (Moz the chocolate lab and Otto the cat).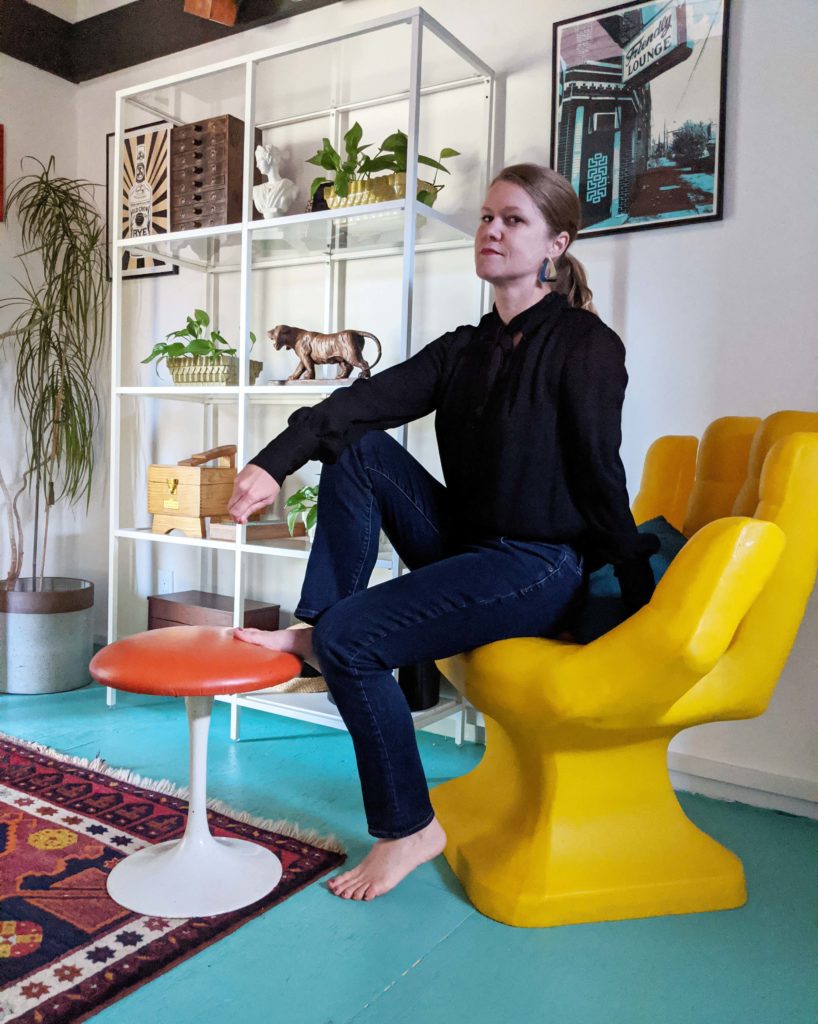 Budget breakdown:
22 new drawer knobs: $111 + Paint: $100 = Total $211
Everything else I already owned! Here is approximately what the other pieces cost when I bought them:
Yellow Hand Chair: $90
Ikea Vittsjo Shelves: $80
Rugs (mostly from estate sales and auctions): $500
Accessories and Art (mostly from flea markets, estate sales and yard sales): $100
Copper light (Briggs Auction): $75
Clothing Stand: $50
Orange Tulip Stools (Flea Market): $100
Overall, if I take into account the price of things when I bought them, the cost was closer to $1200, not counting the carpet, which will be another $1000.
Thanks for following along and be sure to check out all of the final reveals of the other rooms being designed for this challenge here.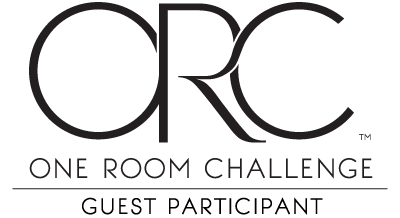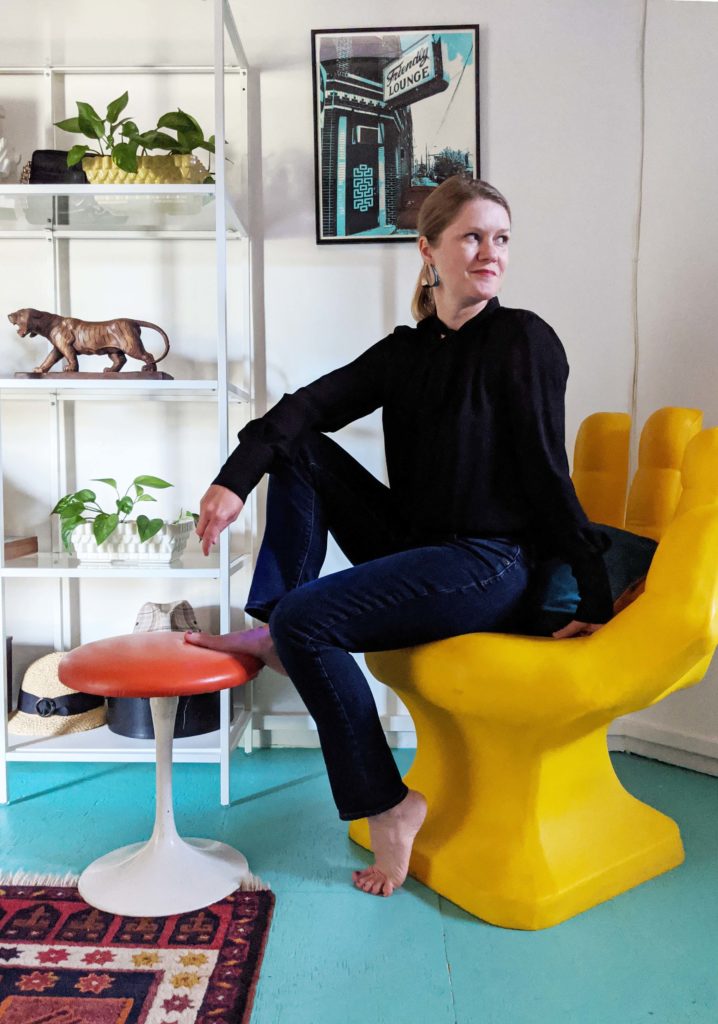 *Brandi