I love to use as much vintage as possible when designing a room, but too much of it can sometimes be overwhelming. Mixing it with modern pieces strikes a beautiful balance of old and new.
It can take a while to find the perfect vintage piece so when you find it, buy it immediately! One of the challenging things with designing a room with vintage items is that by the time the client approves or purchases it, it's gone. However, when you do find that perfect piece, it's magic.
Here are ten tips on the art of mixing vintage and modern decor to help you create a unique and eclectic space:
Balance Is Key: Strive for a balance between vintage and modern elements. Too much of one style can overwhelm a room, so mix in elements of each to create contrast and interest.
Start with a Neutral Base: Begin with a neutral color palette for your walls, floors, and larger furniture pieces. This provides a versatile backdrop for mixing styles. One of my favorite wall colors is Marshmallow from Sherwin-Williams and I've used it on almost all of my walls.
Select a Focal Point: Choose one standout vintage or modern piece to be the focal point of the room. This can be a vintage sofa or a modern piece of art. The vintage sectional in my living room is a beautiful focal point.
Coordinate Colors: Make sure there is a unifying color scheme that ties the vintage and modern elements together. This could be through accents, textiles, or accessories.
Layer Textures and Patterns: Mixing textures and patterns can add depth to the room. For example, pair a vintage, textured rug with sleek, modern furniture. Vintage rugs are a great starting point to the design of a room. You can pull colors from the rug to use for the other pieces.
Repurpose Vintage Pieces: Don't be afraid to repurpose vintage items. An old door can become a unique table, or vintage windows can be used as wall art. The caning in the back of a chair was damaged, so I removed it and it makes it look a tad more modern.
Consider Scale and Proportion: Pay attention to the scale of your furniture and decor. Ensure that vintage and modern pieces are in proportion with each other to maintain visual harmony.
Blend Time Periods: Combine items from different time periods to create a curated look. Mixing Art Deco with mid-century or industrial with Victorian can be visually appealing. My dining room has very modern chairs and table along with a mixture of different time-period accessories.
Accessorize Thoughtfully: Use accessories like vintage mirrors, artwork, or modern lighting to bridge the gap between the two styles. Vintage accessories are the easiest to find and incorporate into a space.
Embrace Your Personal Style: Ultimately, your home should reflect your personal style and taste. Let your own preferences guide your choices, and don't be afraid to experiment until you find the right balance. If you don't know what your personal style is, start a Pinterest board of spaces that catch your eye and you will see a theme emerge.
By following these tips, you can create a unique and inviting space that seamlessly blends vintage and modern elements to reflect your personal style.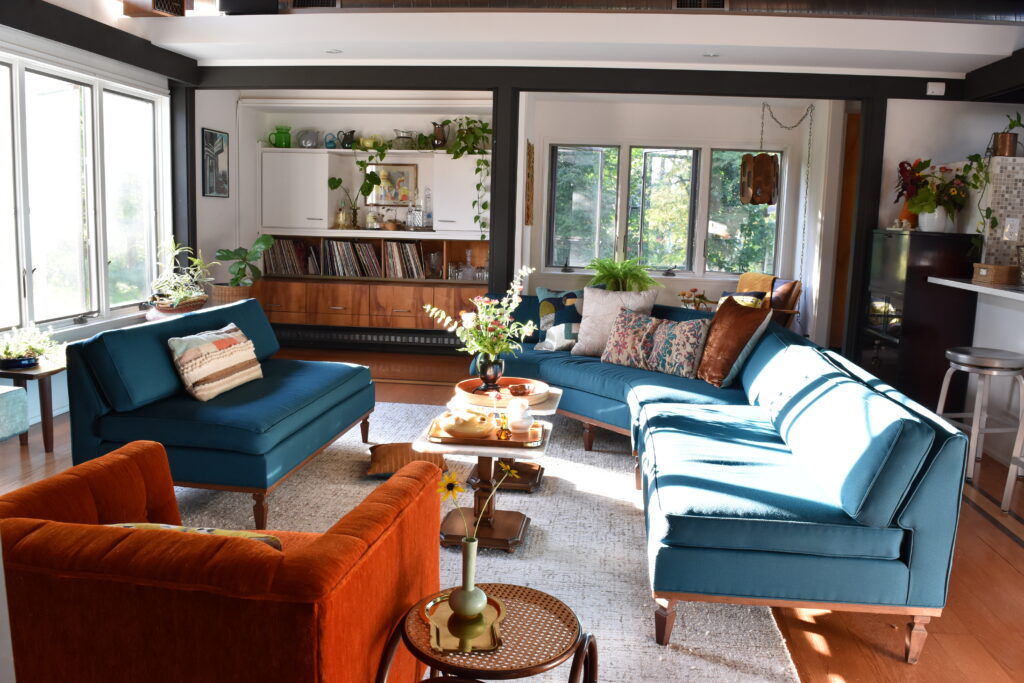 The bedroom below uses vintage rugs, art, and accessories mixed with a modern dresser. The dresser was bought as an unfinished piece and finished with a walnut stain. New knobs add to the modern elements in the room. You can see more of this room here.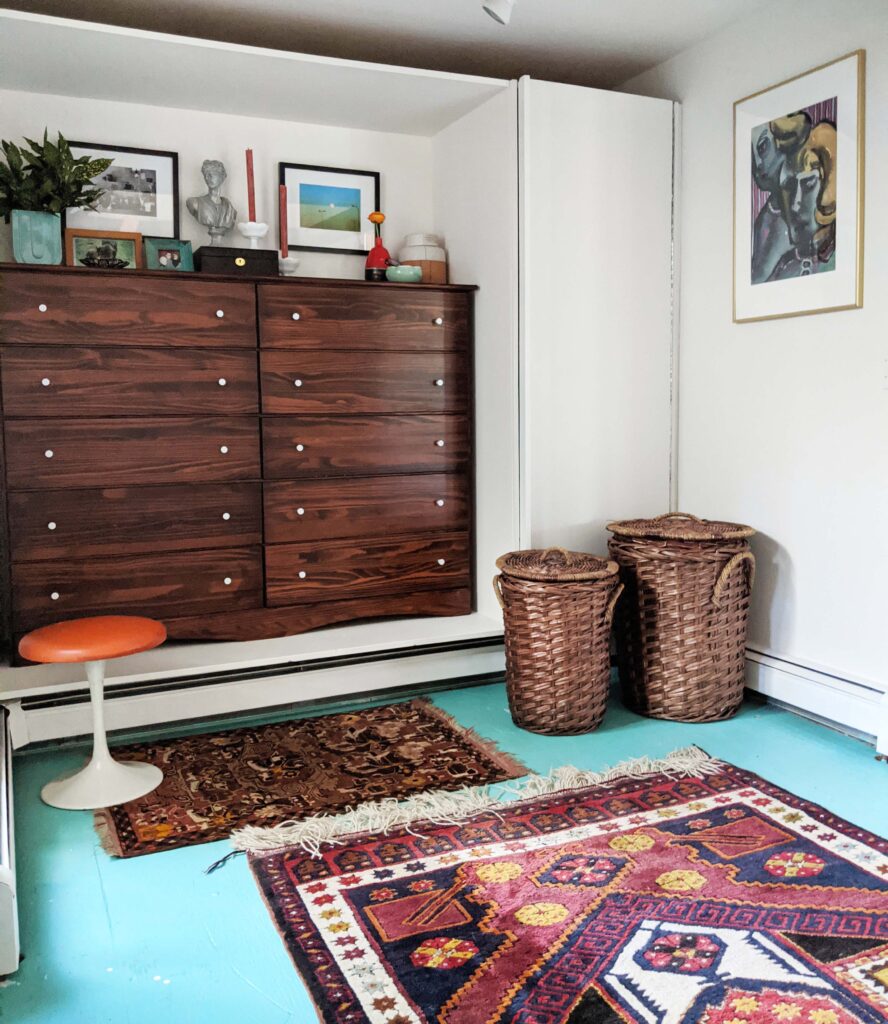 The space below starts with a dark neutral wall color and layers in vintage and modern pieces along with a heavy dose of plants. The white Ikea vase pops against the wall color. You can see more of this space here.
The bedroom below works by mixing a modern headboard from Crate and Barrel with vintage art, lamp and night side tables.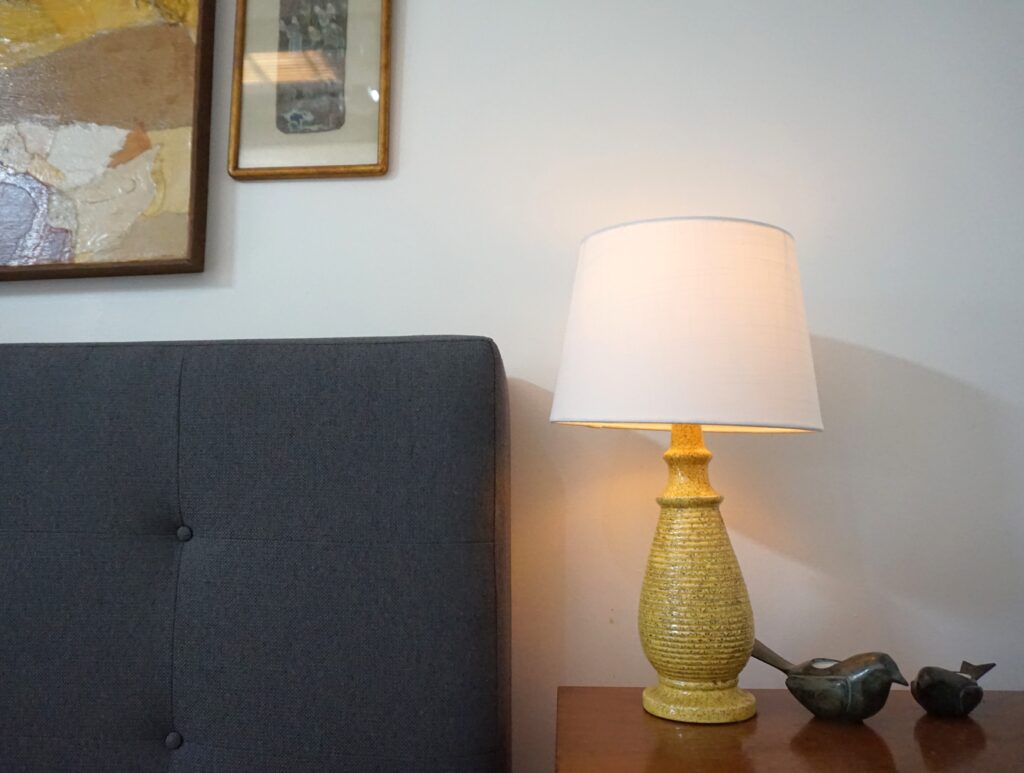 The dining room below has a modern table and chairs along with vintage light fixtures and accessories. You can see more of the dining room here.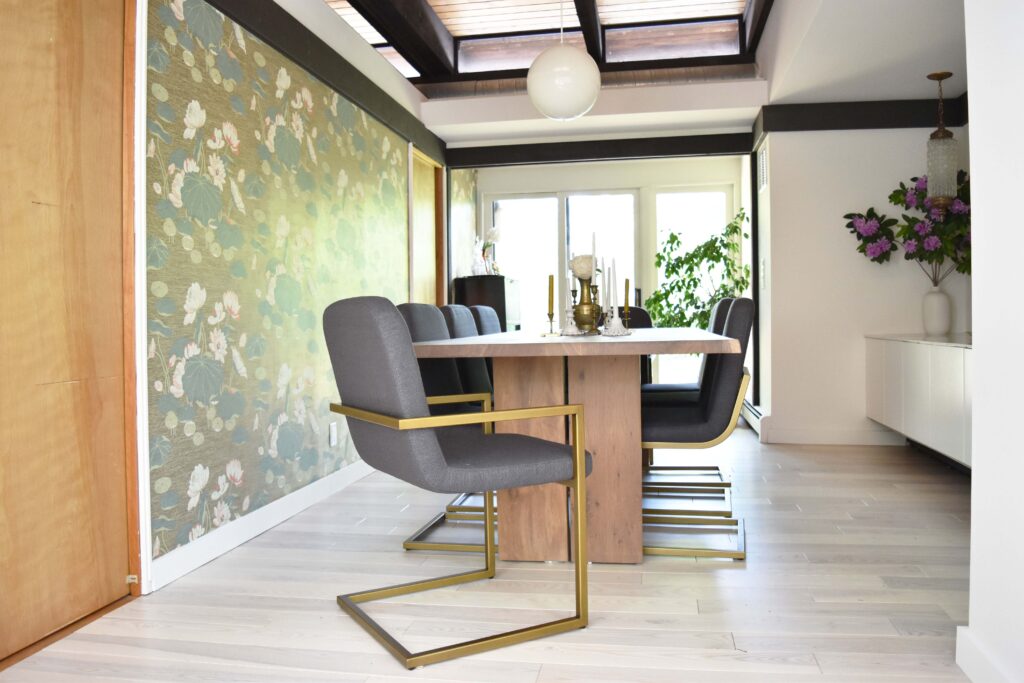 This outside lounge space incorporates a lot of vintage bamboo furniture with a new run and pillows. The carport area was created as a lounge space and you can see more photos here.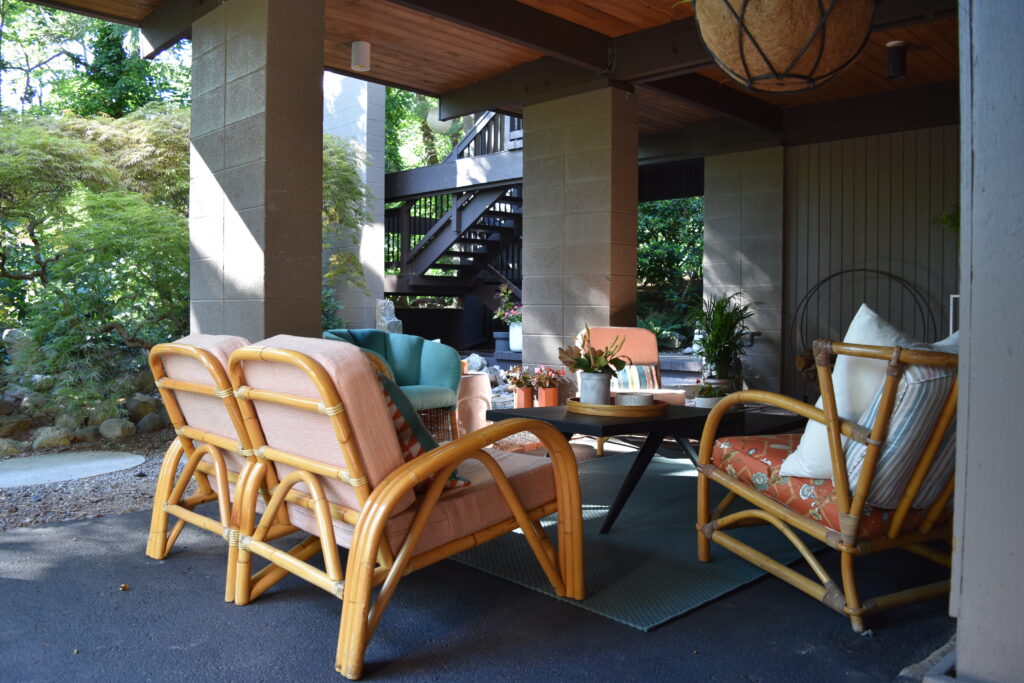 As you can see, I am an expert at mixing vintage and modern. If you need help with it I would LOVE to help. Check out my contact page here.
*Brandi