It's the end of the Spring 2021 One Room Challenge and time to reveal our new mid century modern lounge carport! I swear Dave enjoys this space, even though he refuses to smile for a picture (proof at the end of this post).
Recap of all the posts: Week 1 | Week 2 | Week 3 | Week 4 | Week 5 | Week 6 | Week 7 | reveal!
Thanks to Linda who puts this whole fun thing together and the media partner Better Homes & Gardens.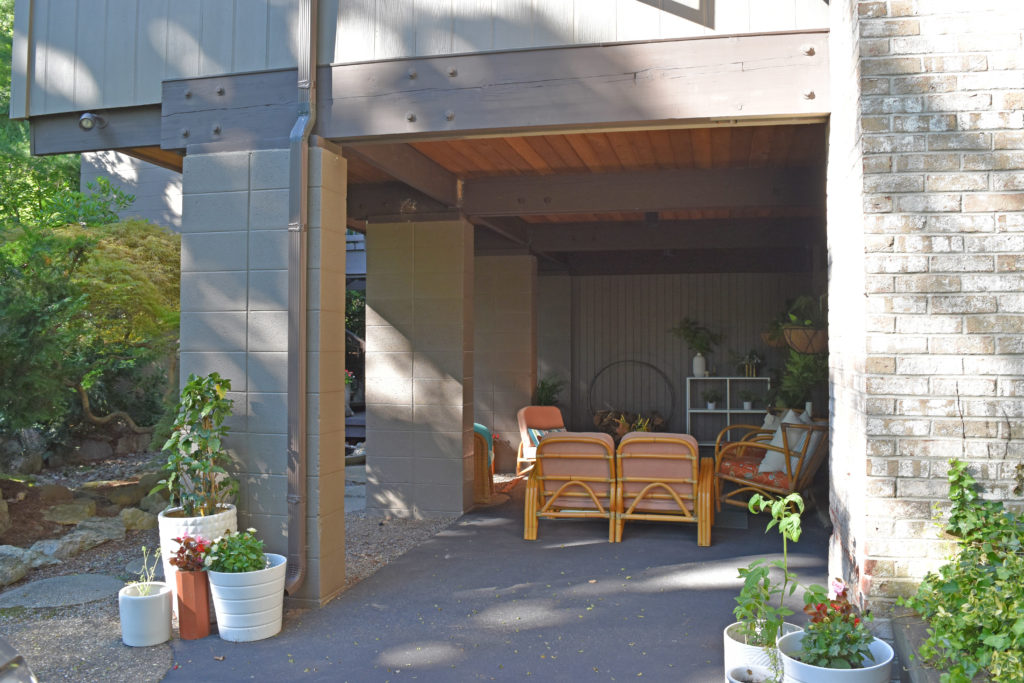 I didn't have a full plan when I started and the design sort of grew organically, which is typical of my design process. The bamboo lounge chairs from Briggs auction were the first find and then I took off in the direction of bamboo. I guess that's possibly not mid century modern, but who the hell cares. Let's call it Mid Century Modern + Bohemian.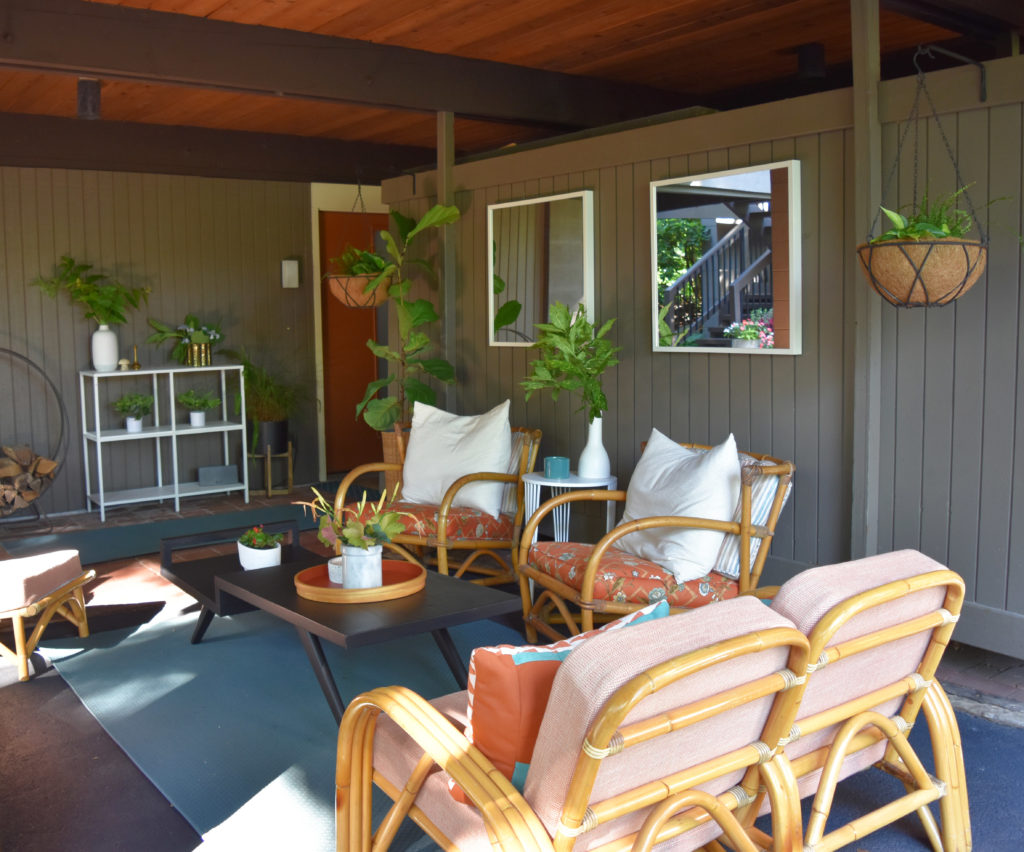 I found a bamboo sofa from Remix Design and it was already reupholstered in the perfect color palette so it had to be mine. All 3 pieces are movable, so right now I have it set up as a love seat and a separate chair, but all 3 pieces can go together as well.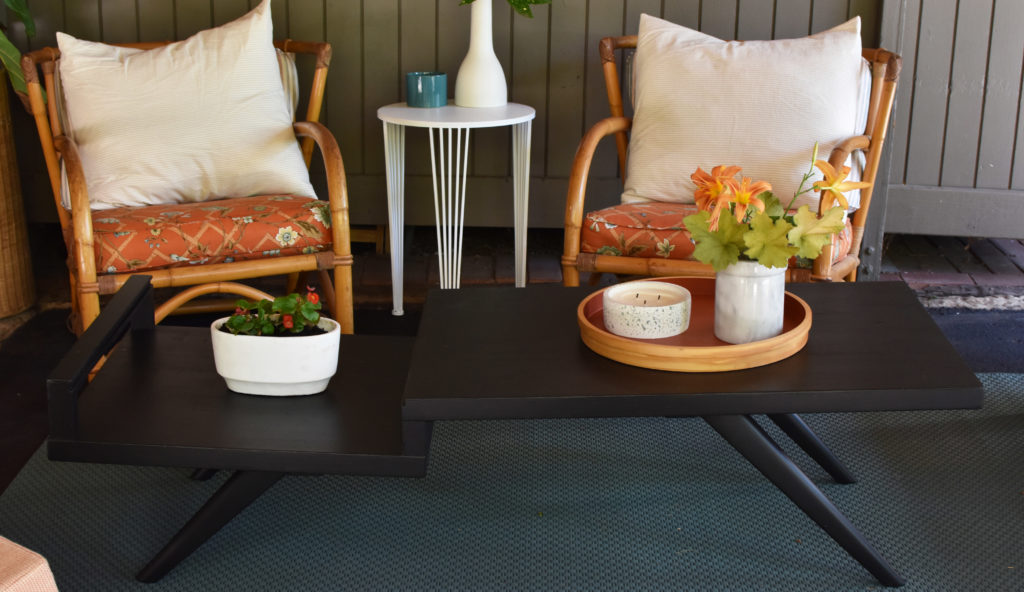 As I mentioned before, the coffee table was a used furniture score while in college and it's traveled with me for 20 years. I finally gave it the makeover that I intended to 20 years ago. Dave actually ended up doing a lot of the heavy lifting of taking off the varnish, so thanks Dave!! At first I thought I could just sand it, but then I did some internet research and realized I really should take off all the varnish. I had some leftover black paint from when we painted our stairs, so I used that to make it look fresh and new. I love the legs on this piece. Actually the legs of all the furniture in this space are amazing.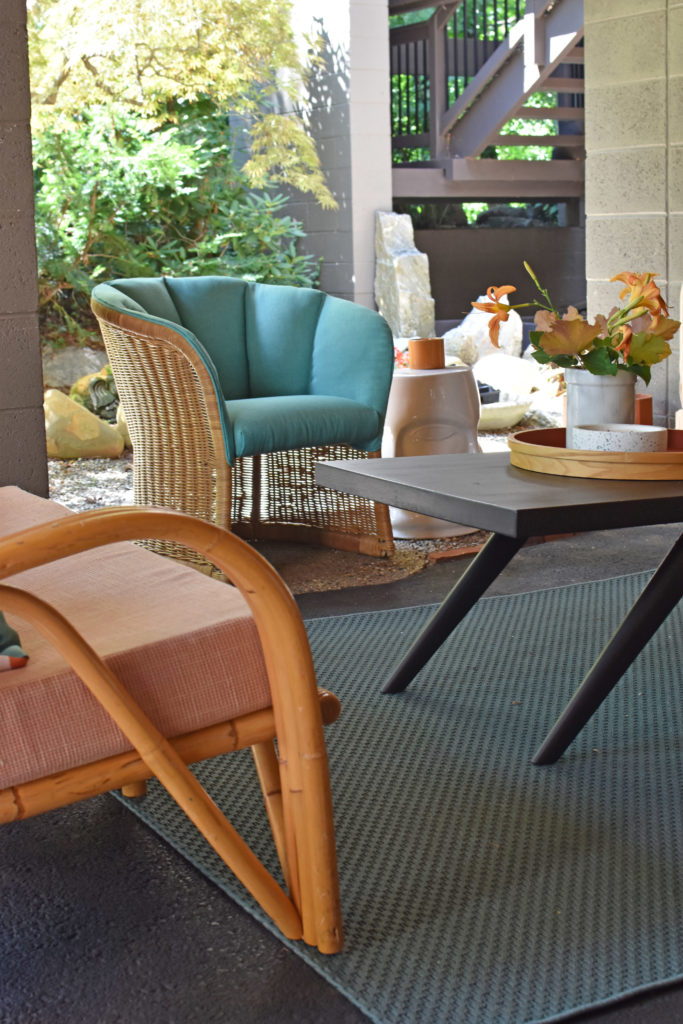 The blue chair was another Briggs auction find and it was recovered by Jen Tiberi @j.tiberi. She did a fantastic job and I am so glad I didn't try to recover this myself. I did try to recover the bamboo lounge chair cushions and it was a big failure. But the as is fabric works for now.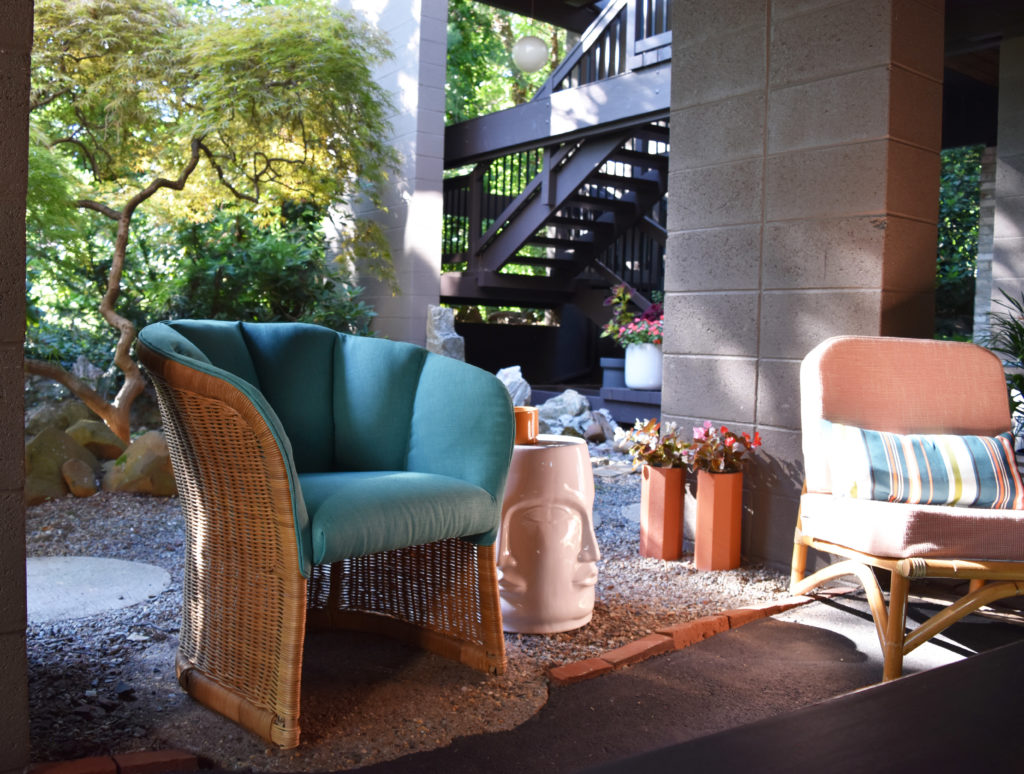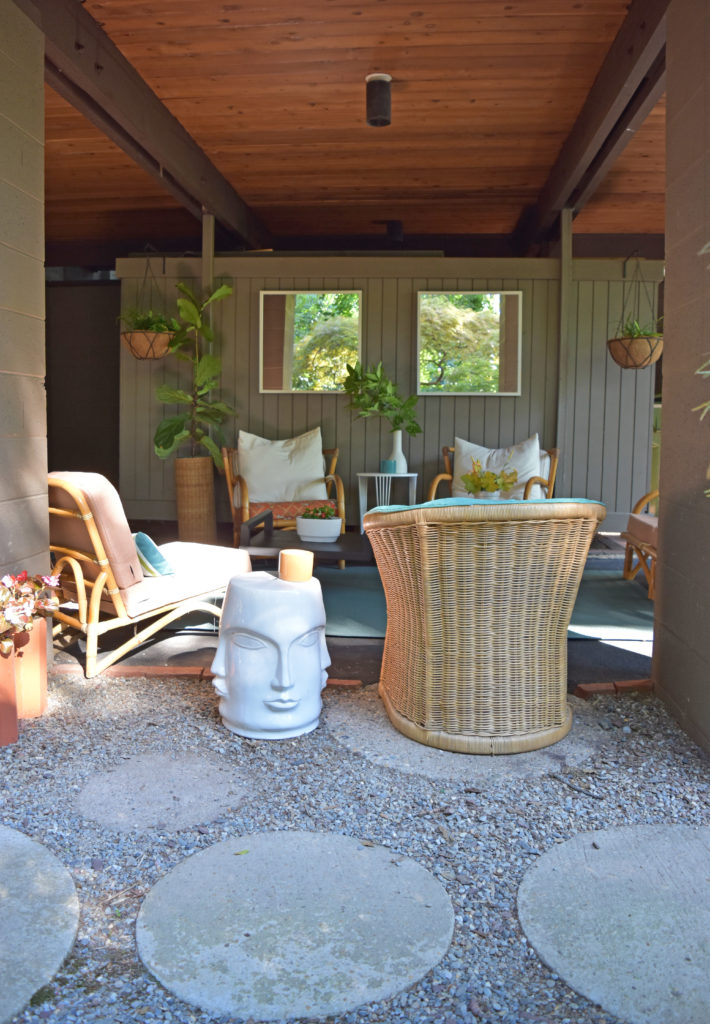 I love the HomeGoods faces side table. That was a great find, because I love to add unexpected and fun elements into my designs. The white shelves and two mirrors were something that I had and were patiently waiting for a new space. I removed the mirrors during last year's Spring One Room Challenge from the bathroom and kept them knowing I would eventually find a space for them. They work so great here to bounce around the light and reflect the killer view.
A really great way to make design projects more affordable in your own home is to use what you already have. Moving a piece or two from one area to another can bring fresh life to both the item and the space. I have a basement full of objects just waiting for the right project.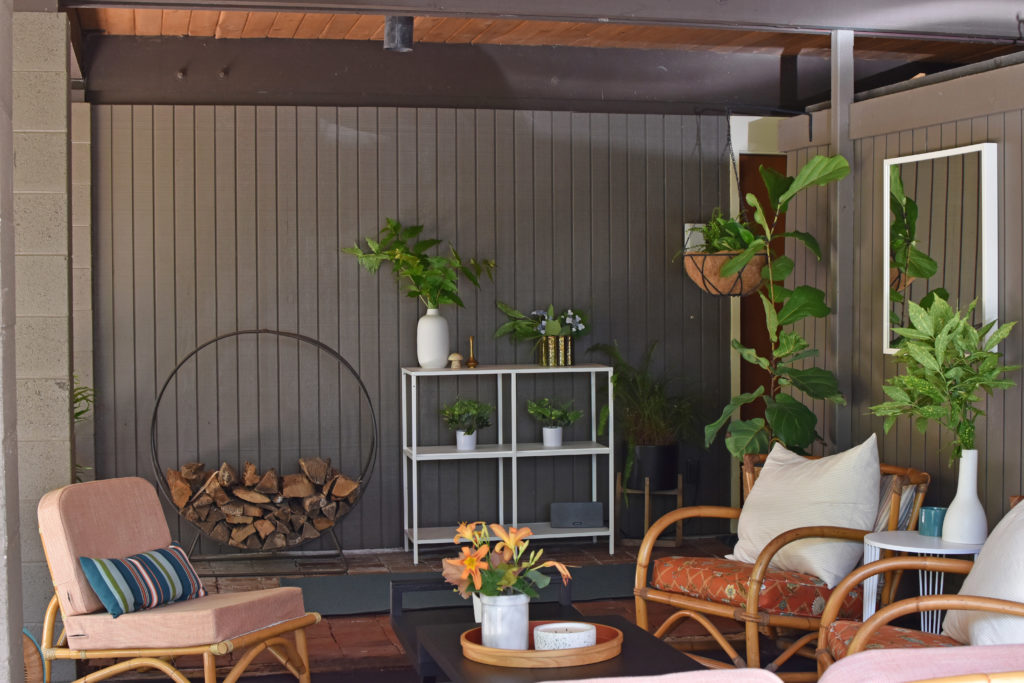 The door got a new coat of paint, Brandywine from Sherwin-Williams. It's the color that I used for the bathroom ceiling, which is right inside this door to the left.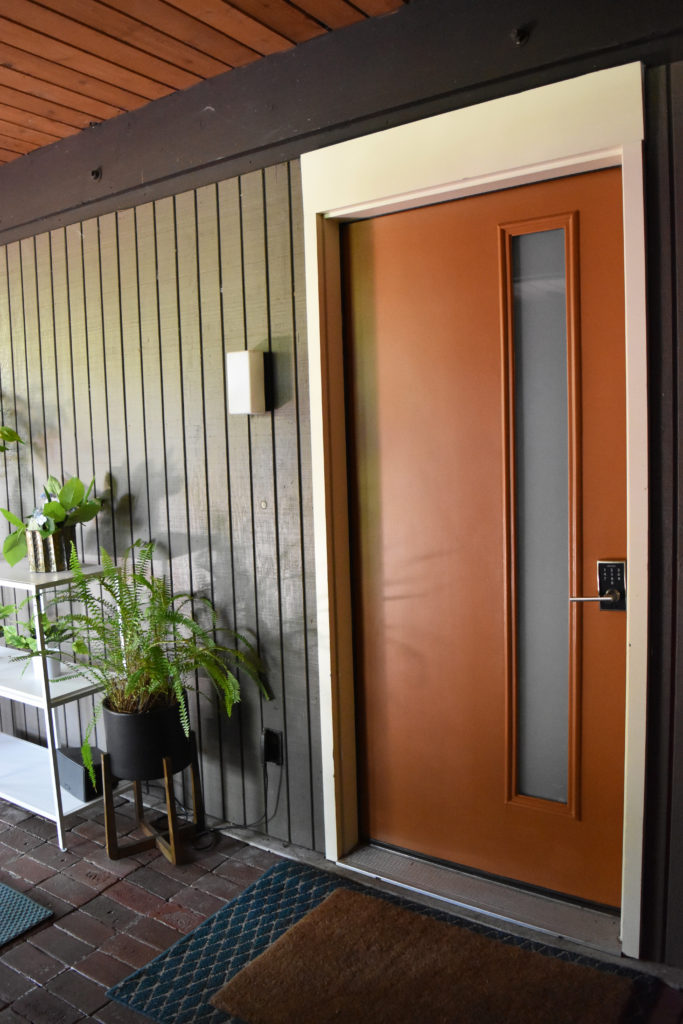 The view from this space is just magical and I love that now I can really relax and enjoy it. During the early to late evening the sun shines through the leaves and just really looks amazing. The birds fly by and stop to take a rest on the ground or shrubs. We even see the foxes from this spot.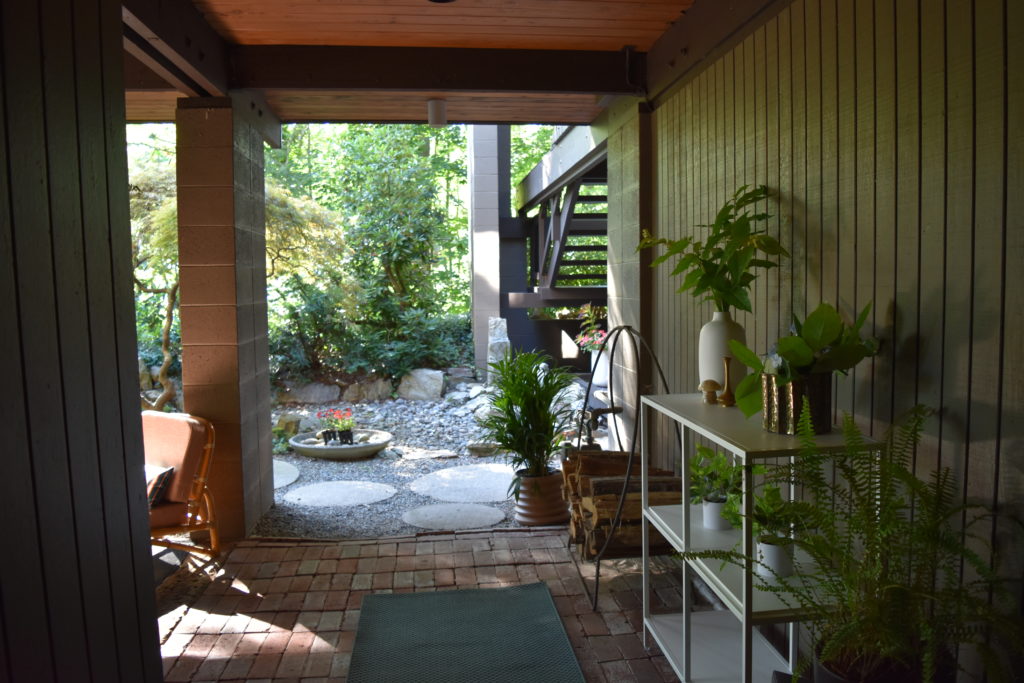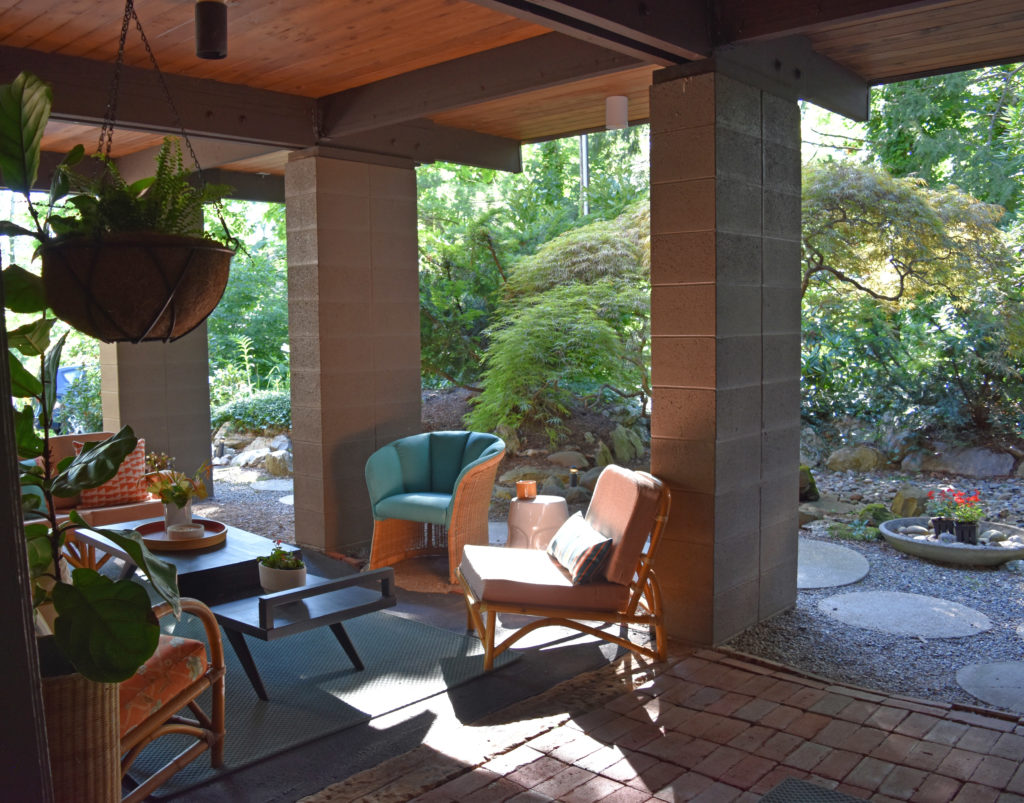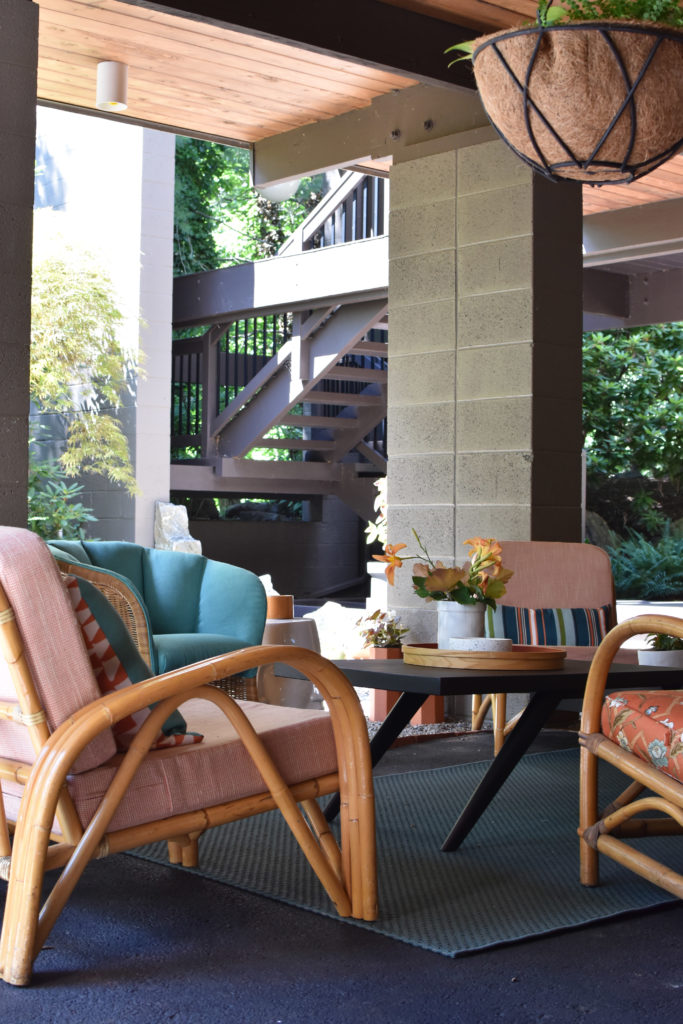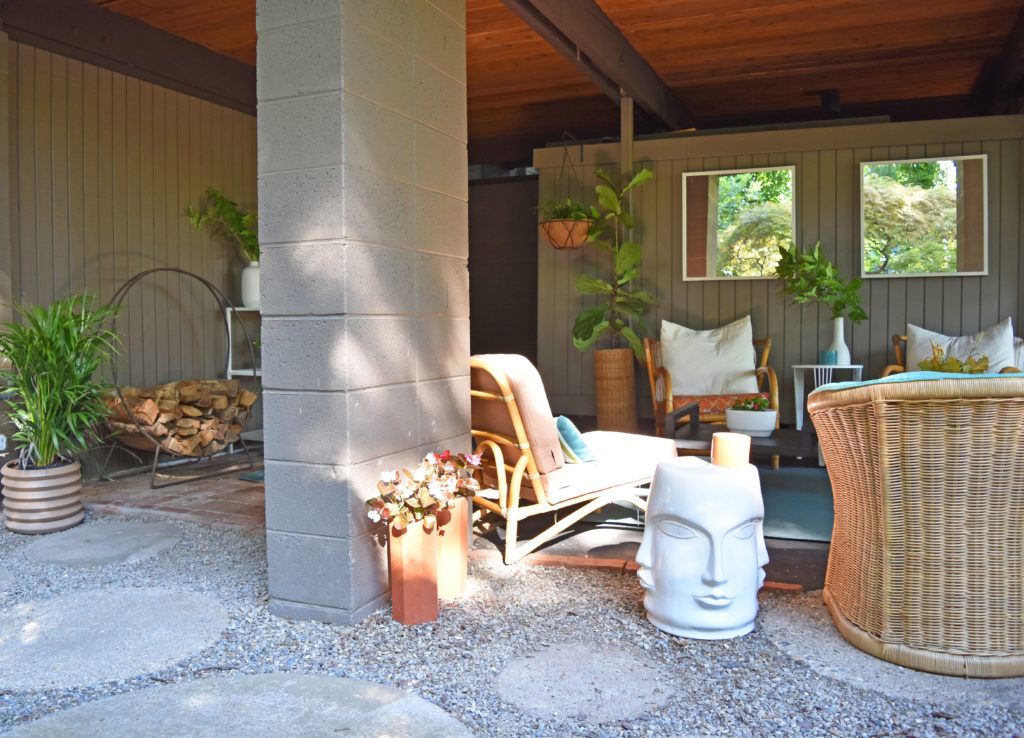 Let me know what you think! I'd love your feedback. Remember I am available to design YOUR space, so send me a message or take a look at my services and I can create an oasis for you too.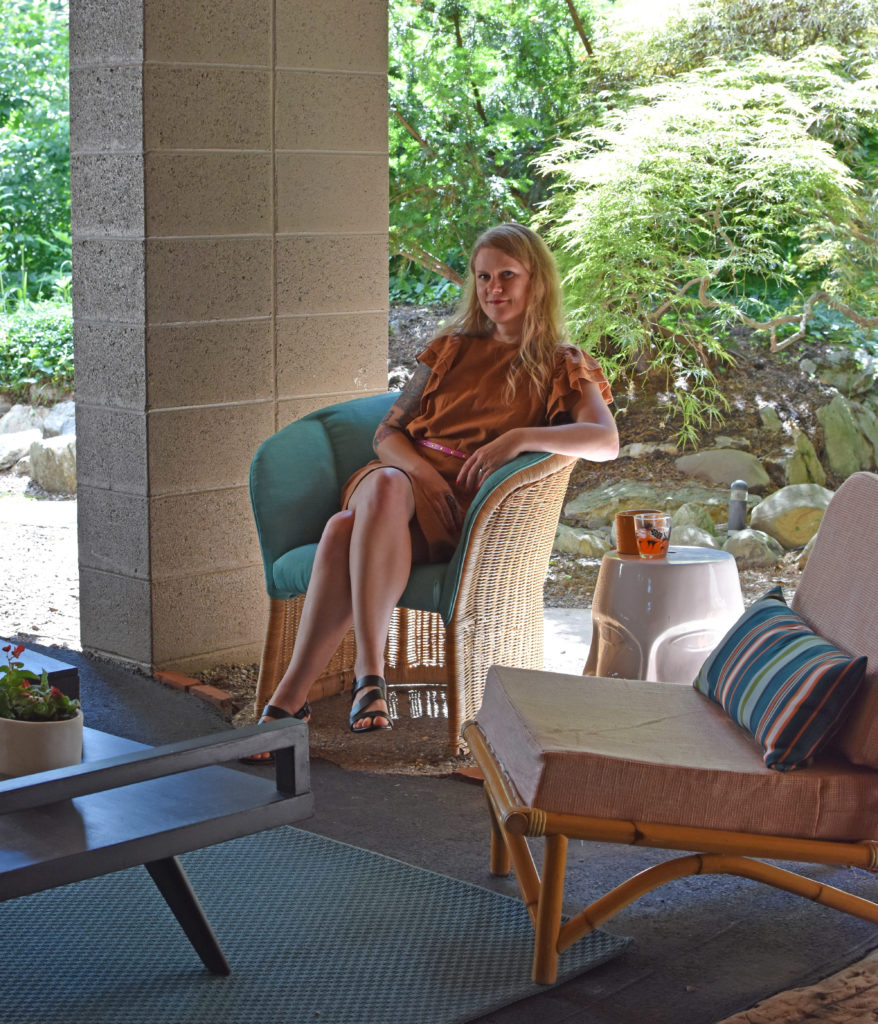 Be sure to check out the other guest participants (that's me) and featured designers. It's the big reveal for everyone and you can see all of the amazing spaces that have been transformed.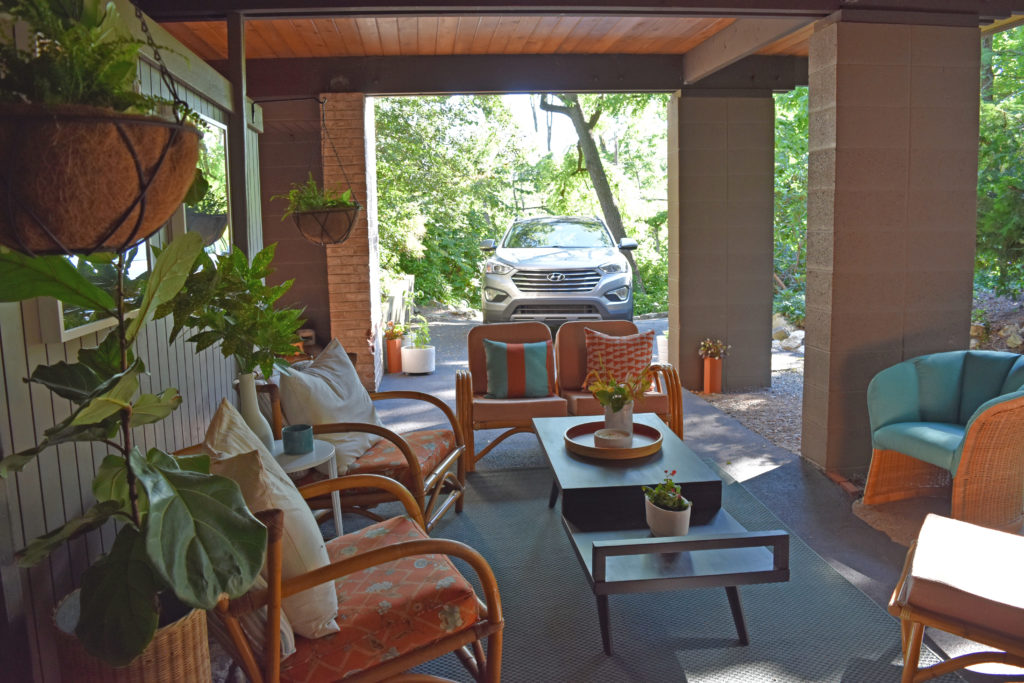 As a reminder, this is where we started.
Sources: [note my posts are not sponsored and I buy everything my self]
Badass wicker chair: Briggs auction, recovered by Jen Tiberi
Bamboo wicker three piece sofa: remix Design
Bamboo wicker lounge chairs: Briggs auction, extra pillows came with remix Design couch
Orange, turquoise pillows: made by me, Brand*Eye Home
Striped pillow: don't remember (it's a couple years old)
Rugs: Ikea
Coffee table: vintage find while in college 20 years ago
Black pedestal planter: Target a couple years ago
Terracotta ribbed planter: Hilton Carter for Target
Tall terracotta 'planters': Restore
Face table: HomeGoods
White round table: At home
Mirrors: saved from bathroom remodel
Hanging planters: had and many years old
White shelves: had from Ikea
Black fire ring: had from in laws
White lights: Lowes
I occasionally sneak a photo of Dave and here is proof that he does smile and enjoys the space. I had wanted to redo this space for a few years and he didn't want me to, because he 'uses is as a work space.' Work somewhere else dude! His current thoughts on the space is that he was wrong and he loves it. Praise be.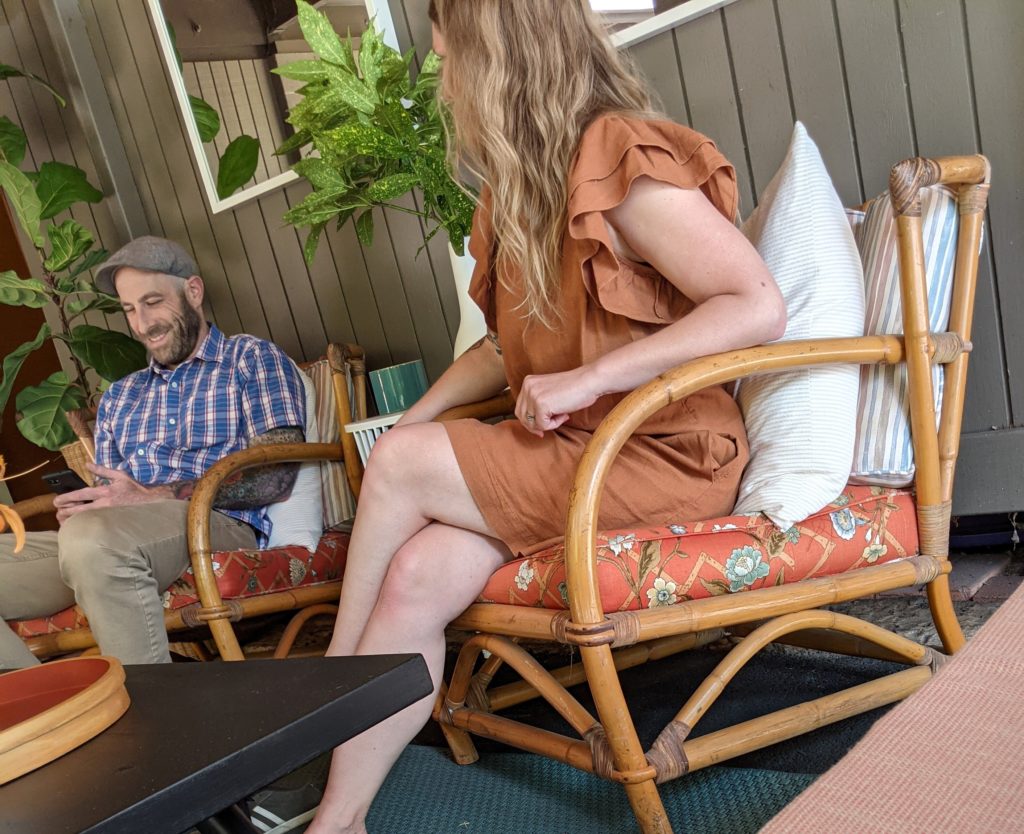 *Brandi