The guest bathroom is finished and it looks fantastic! I am so happy with how it turned out! The best part is that the green cement hex tile is even better than I imagined. You may remember I was trying to figure out which way to lay it, and I think the layout I decided on works well with the layout of the room and gives a focal point to the room.
I am SO in love with this floor.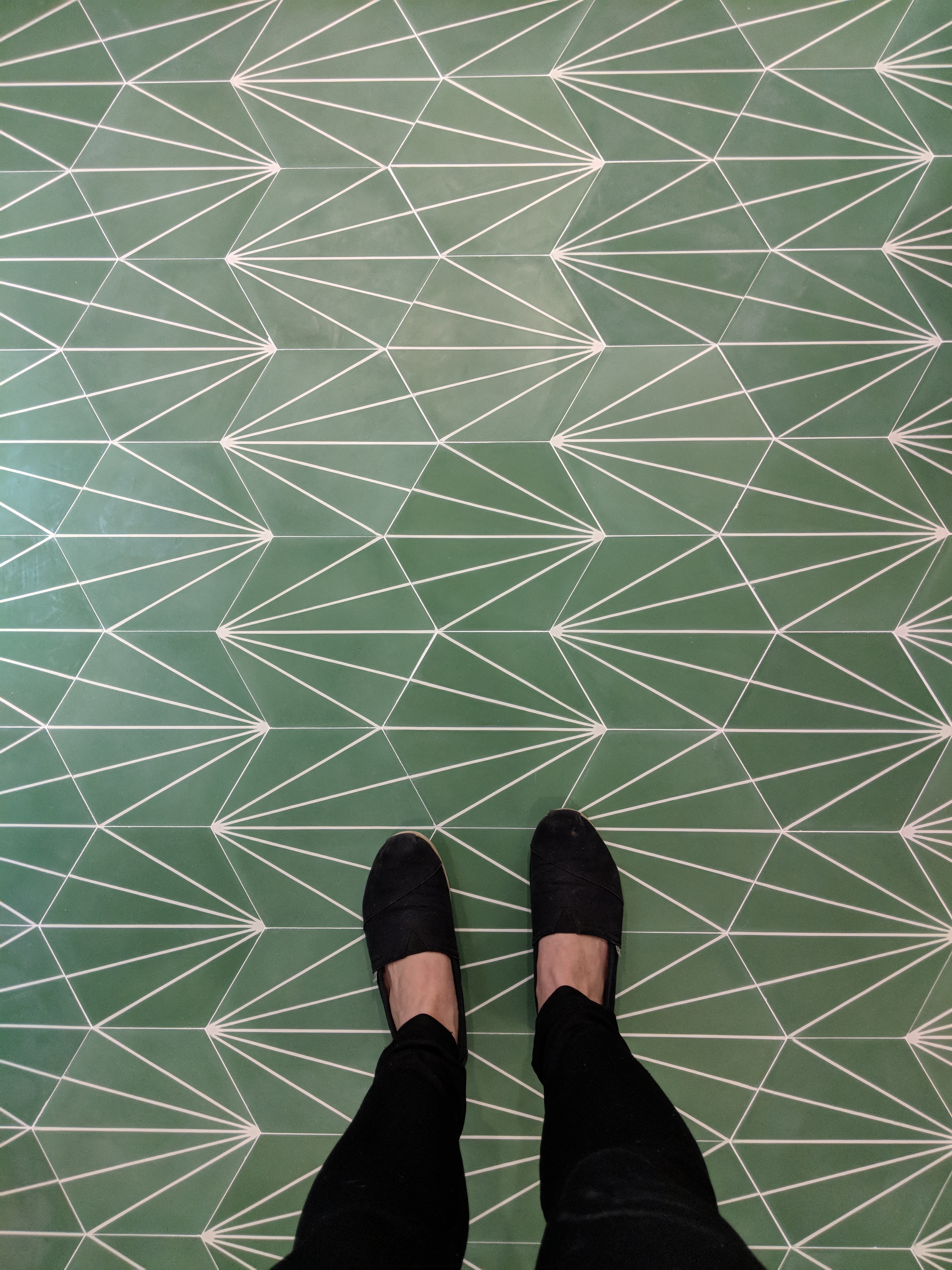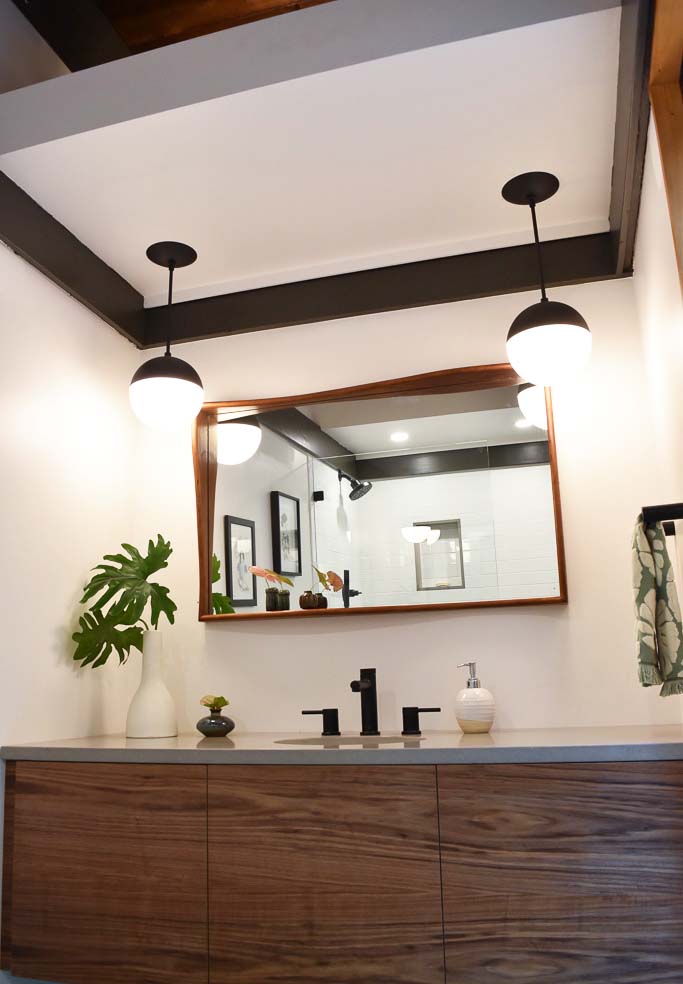 Having both the vanity and toilet attached to the walls instead of the floor really opens up the space and makes it feel larger. The vanity was custom made by the contractor Steven (details are all linked below) and it fits this space perfectly. Notice the three doors use the same piece of wood? It's beautiful!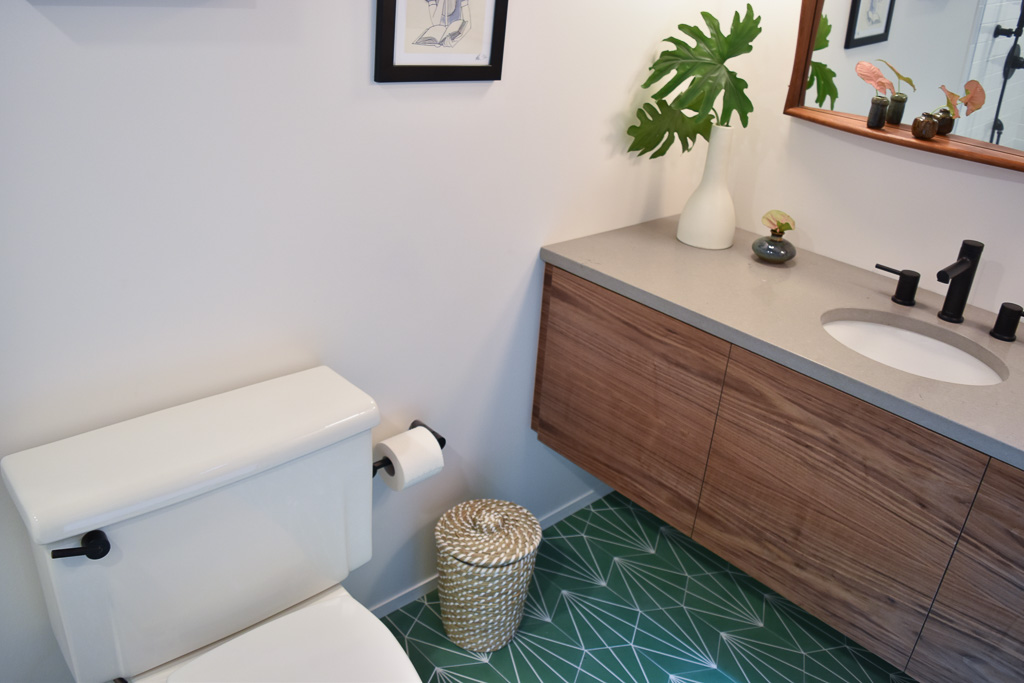 You may also remember that I was trying to figure out what mirror to get. I ideally wanted a vintage mirror with character, but had a few back up options in case I couldn't find what I wanted. Well it turns out that at the last minute my friend Holly invited me to a rummage sale (at a church in Chestnut Hill) and I found the most a amazing hand-crafted wooden mirror. It's divine and even works like a little ledge to display my tiny ceramic vase collection.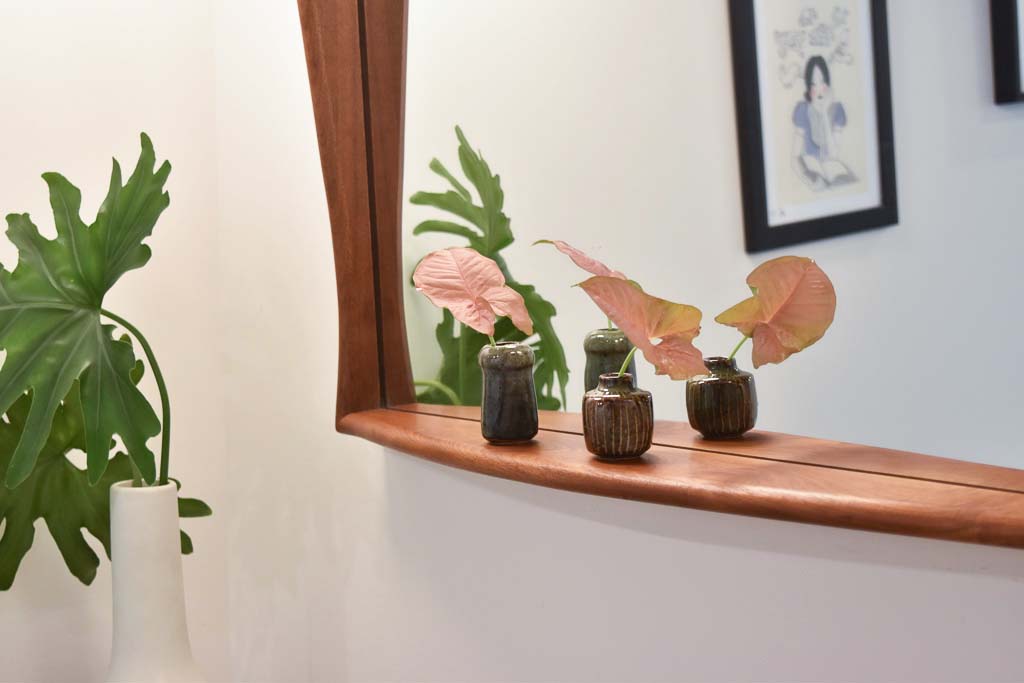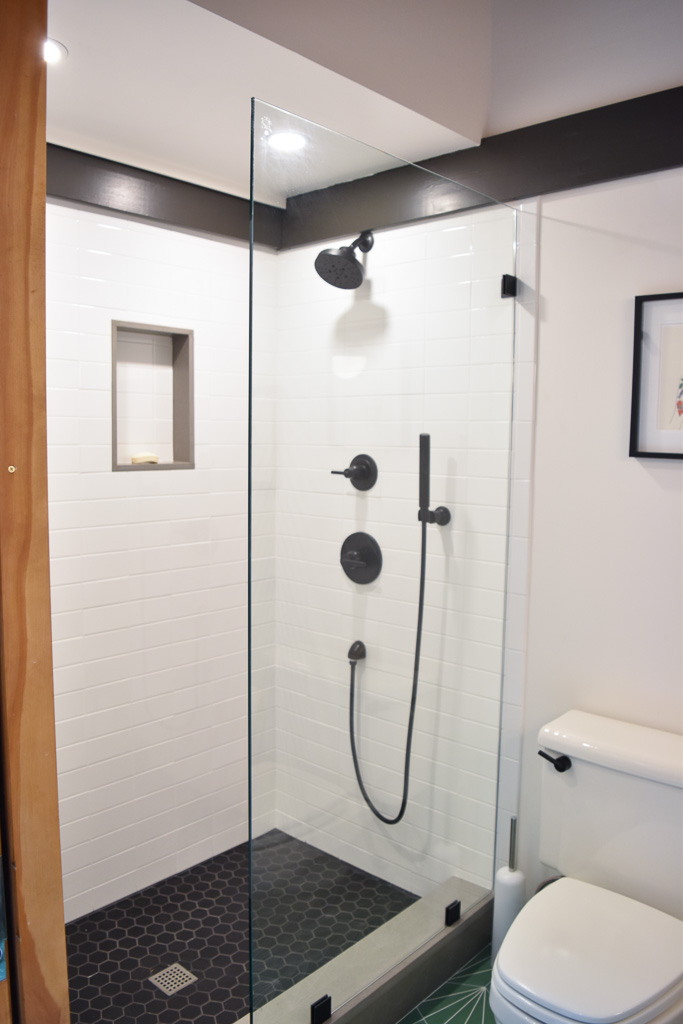 For the vanity area I went with two lights that hang from the ceiling. This area is not the ceiling height of the whole room. In the middle it actually opens up to a wood ceiling and I just realized I forgot to take pictures of that. It's really hard to take photos in a bathroom!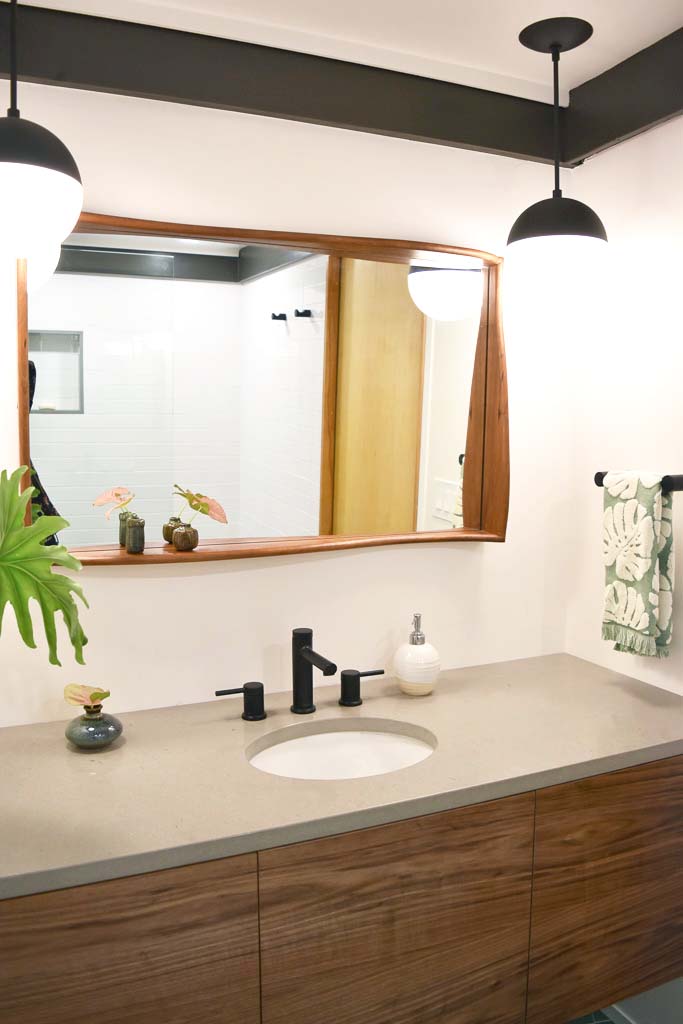 I am planning to get a large black and white print of some sort here, but was too excited to take pictures and show you so I just used art that I already had. This actually looks pretty good. But I wish the frames matched. Sources are listed at the end.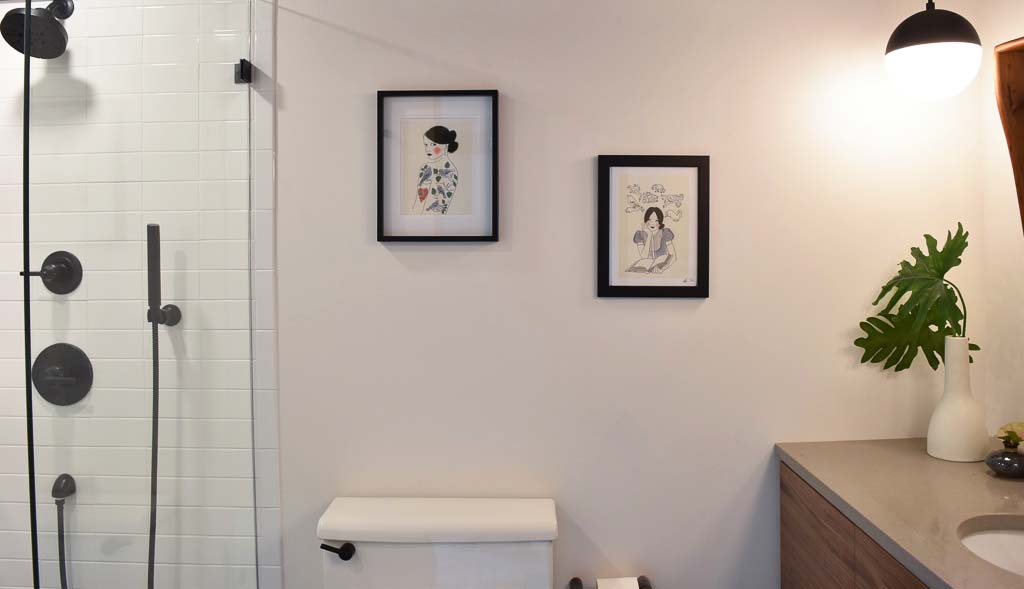 Hi!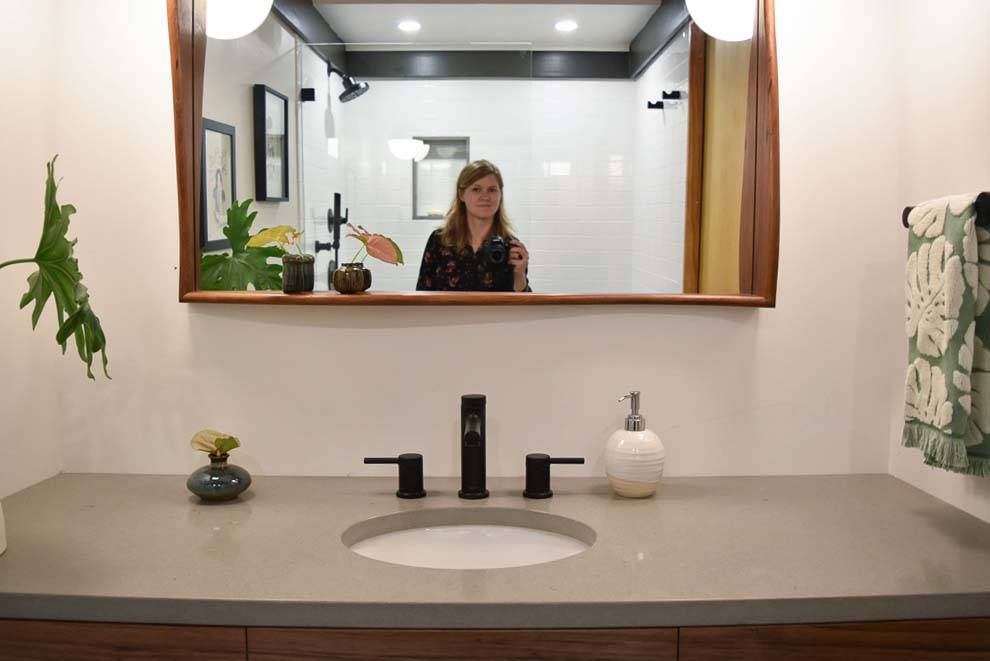 Below is the transition to the shower. The curb is the same quartz material as the counter top and the shower floor is a matte black hex tile.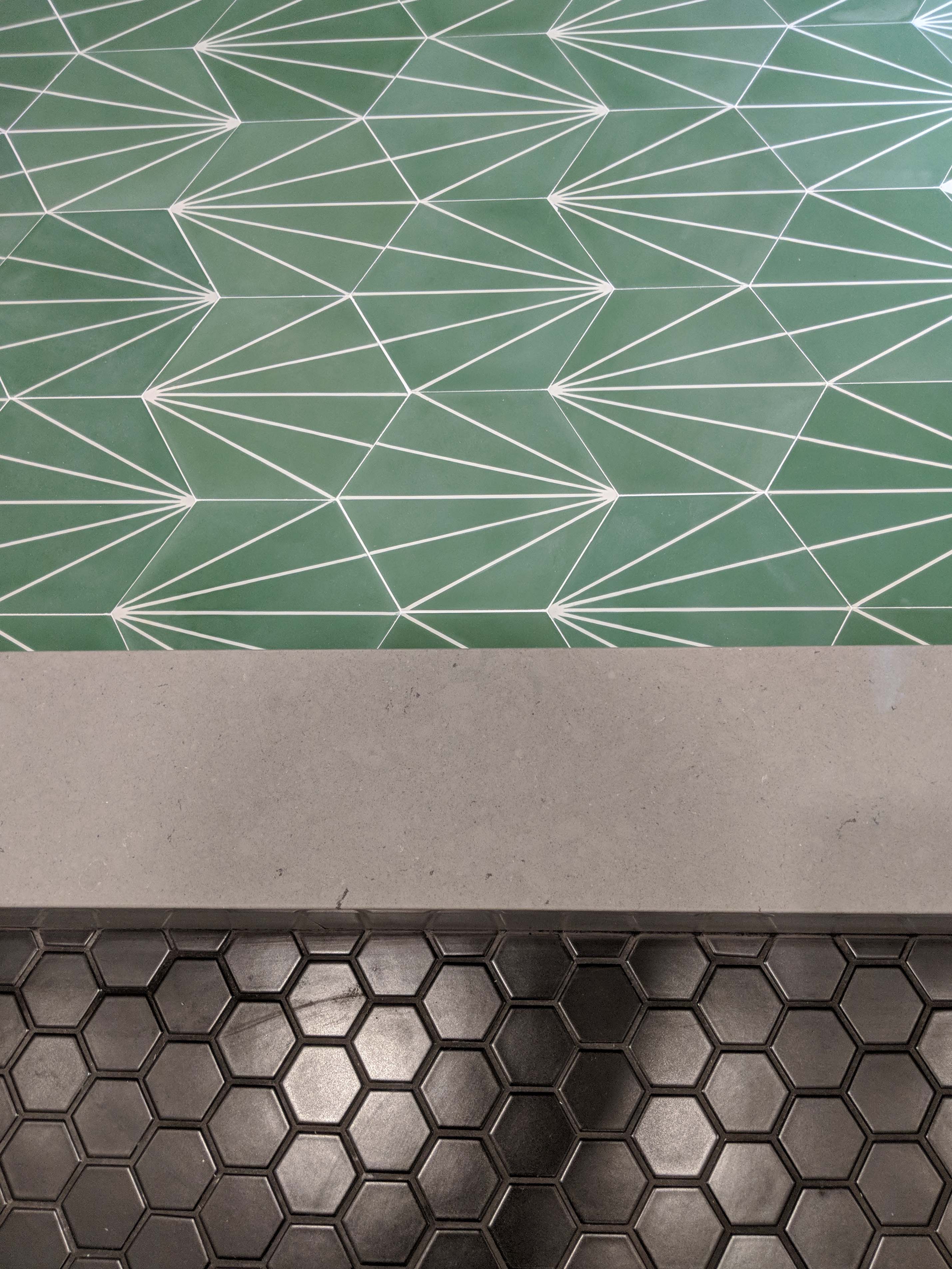 Below is before the glass was installed, but Winnie approves.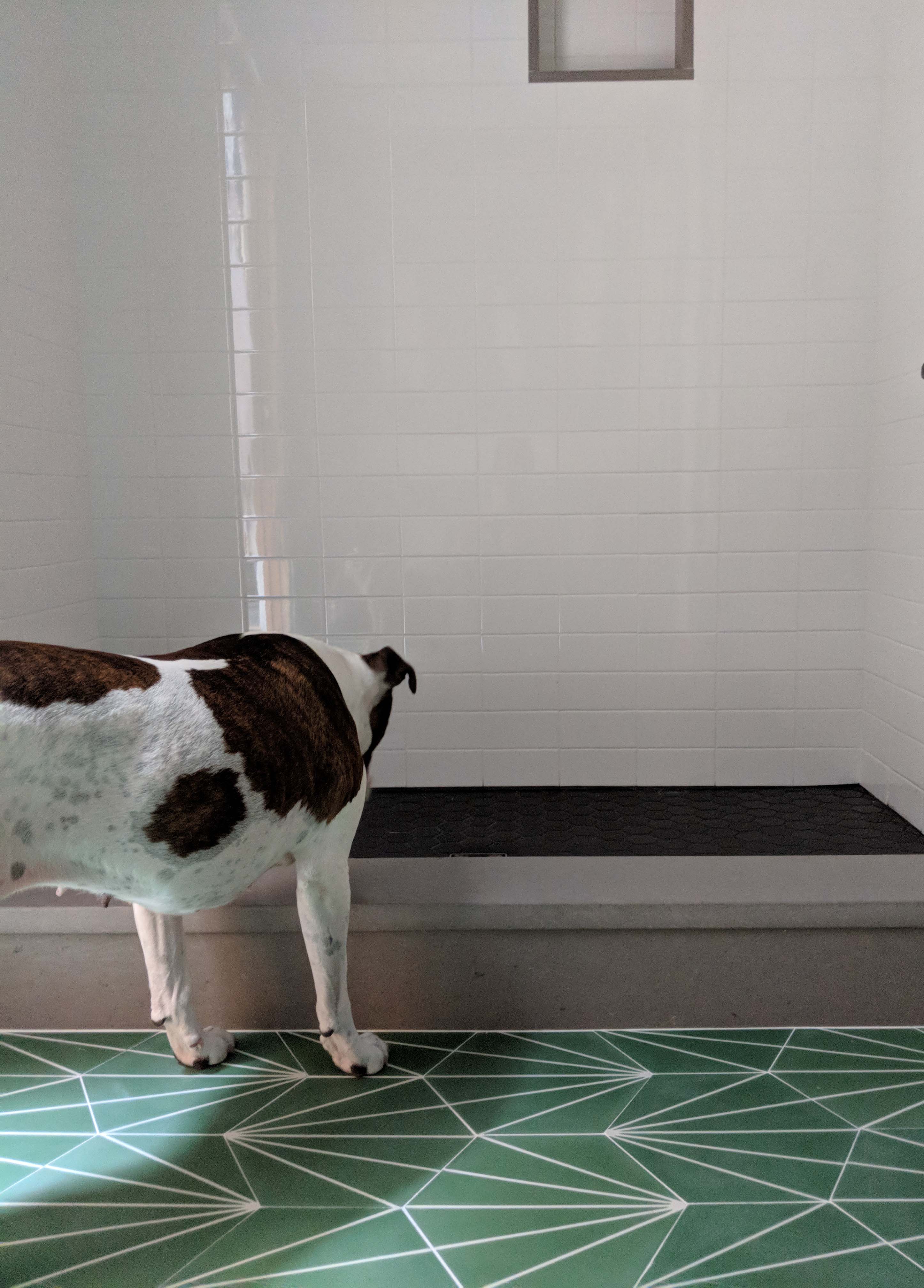 All the details are linked below:
Carpentry and Contracting, including the custom vanity, Fritz Carpentry and Contracting
Green hex tile is from Cement Tile Shop. (I found it via insta stories from Estrella Tacos discounted. Yay!)
White shower subway tile is from Home Depot. I had it installed in the stacked layout and it's 3″ x 6″. This tile is super affordable and offset the cost of the green tile.
2″ Black hex tile is from The Tile Shop.
Lights are Cedar and Moss 8″ Globes from Rejuvenation.
Bathroom faucet, towel bar, robe hooks, and TP holder is from the Moen Align line.
Shower faucet and trim sets is Delta Trinsic.
Countertops are quartz. I love how they aren't as uniform as most quartz. I'm not sure of the exact name of it, but it sort of looks like concrete.
Artwork I already had and is from etsy. The seller is Matou en Peluche The Girl Who Loved Birds.
Trash can, soap dispenser (I switched out the gold pump part with a chrome one I had from another soap pump), and hand towel from Target.
I still have to install the wallpaper, but I couldn't wait any longer to show you. So, tell me what you think!