It's week three of the One Room Challenge! To be honest, I have done nothing with the powder room in the last week. However, I did order the new faucet, so that's progress!
Here is the latest design idea mood board.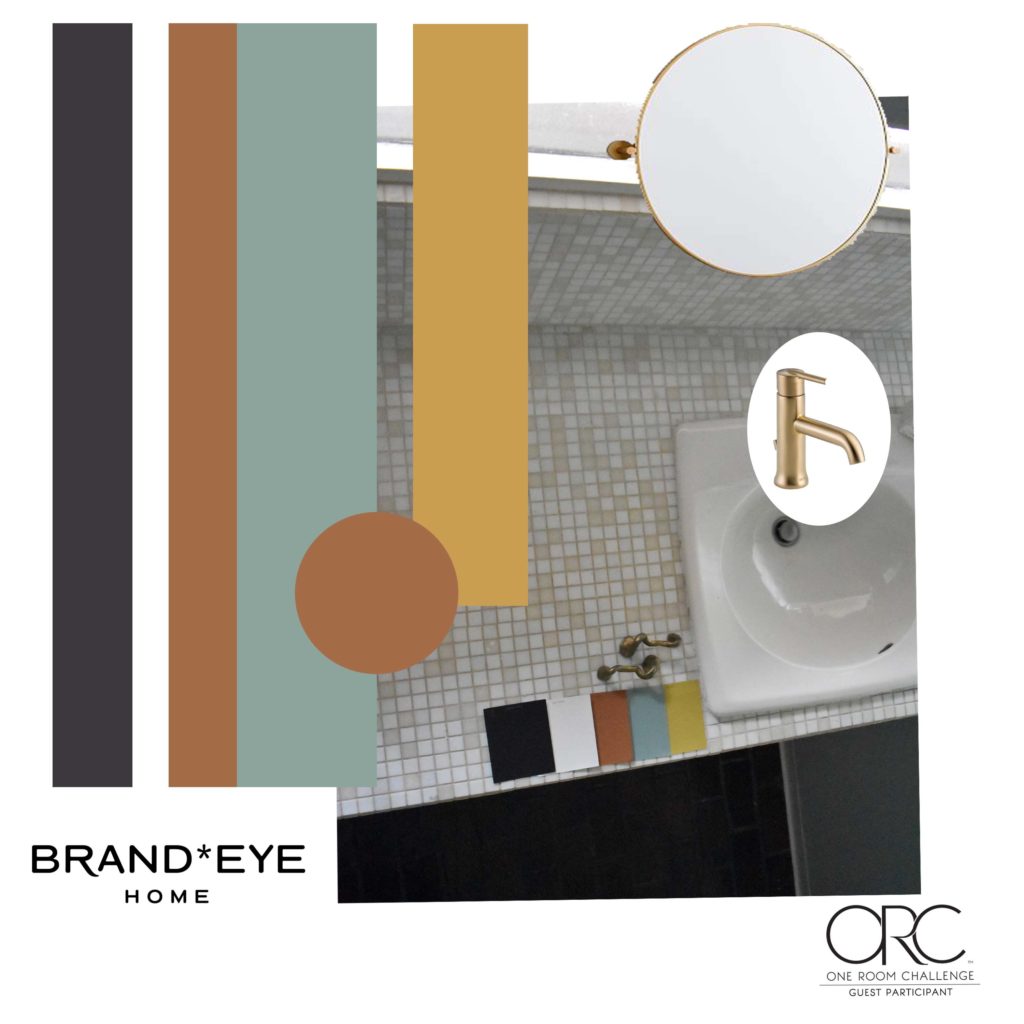 As I have mentioned, the walls will be painted white and I will add a hand painted mural. I started following @banyanbridges on Instagram and have been totally inspired by her wall murals. Here are some examples of what she has accomplished with paint! Her instagram also has a lot of painting tips, so give her a follow.
I LOVE how she incorporated everything into the color blocks below Door, trim, wall, and even the door hardware!
I am not 100% sure what the mural will look like, but I have been thinking about it a lot. Once I paint everything white and have a blank canvas to study, it'll really come together in my mind. There are a couple of problem spots that I need to incorporate into the design. The back splash tile doesn't go all the way to the left where the cabinet was. I plan to use color blocking to incorporate this area and make it look intentional. And there is an access panel in the ceiling that is pretty banged up. I was thinking of making it a darker color to camouflage it.
The faucet that I bought is this one from Delta. Isn't she pretty?
I decided to go with gold everything (faucet, mirror, towel bar). I contemplated using black, but the handles are gold-ish and the canvas frame is gold so I decided to do everything in gold.
The mirror choice has been narrowed down to the West Elm pivot mirror. Do you remember that in the first post I mentioned that I couldn't see myself in the last mirror 🙂 I found one that pivots, so I can angle it down slightly and be able to see myself! Hooray!
I am deciding between the two above, circle or rounded rectangle. The room has so many 90 degree angles and straight lines, so I plan to add some curves with the mirror and mural. Which would you choose? I have to decide soon so I can order it! I'm leaning towards the circle.
Let me know what you think! And be sure to click around the ORC link up website to see what everyone is up to. I have found some great new accounts to follow this way. And special thanks to the media partner for this event, Better Homes and Gardens. I hope that someday they publish the photos that they took of our house last June!!
My previous posts can be found here: week one, week two.
*Brandi