I have fallen in love with sweet potato pie over the last two weeks and want to share it with you. I first made it two weekends ago with orange sweet potatoes and absolutely loved it. Then last week I was unexpectedly Instagram-influenced by @lokokitchen 's pie which used purple sweet potatoes. When I saw them at the grocery store I had to give them a try with this recipe. I mean who doesn't need to eat a piece of pie every day for two weeks 🙂
Not to toot my own horn, but this is one of the most beautiful pies ever and definitely the prettiest one I've ever made. This recipe worksgreat with orange sweet potatoes, but looks cooler and unexpected with purple. I found the recipe from a blog that based it on Patti LaBelle's recipe. I made a couple of minor adjustments as well as a completely different crust recipe. I also separately baked pie crust acorn and maple leaf shapes to decorate the top.
This isn't a typical food blog where you have to scroll through a long ass story to get to the point. Here is the recipe.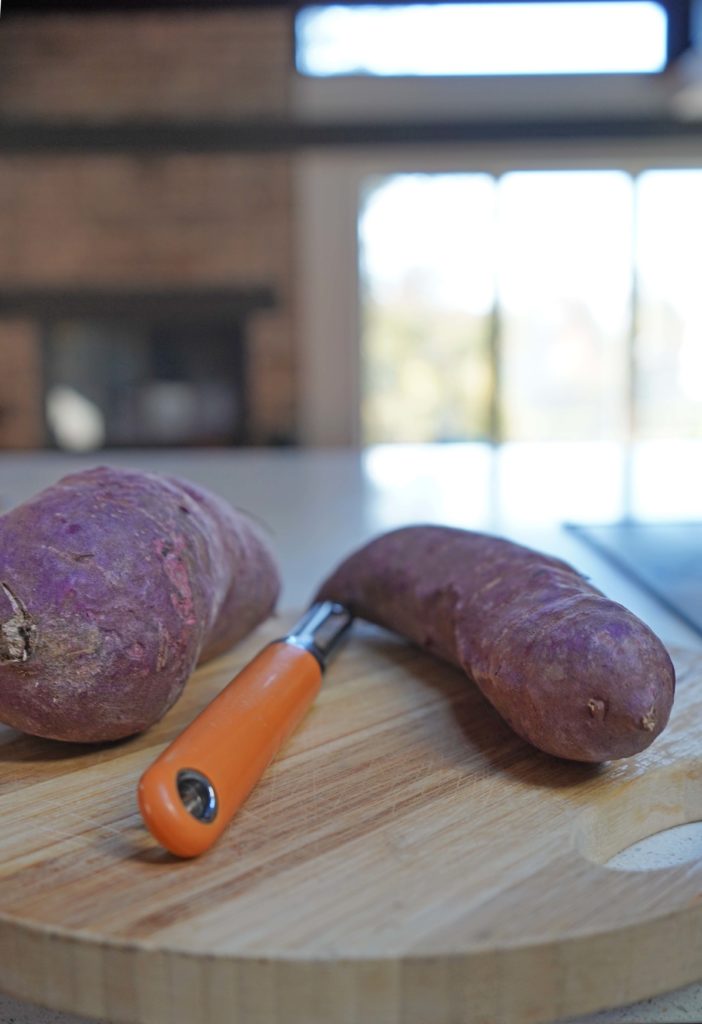 Pie Crust recipe from my father-in-law Bill Adoff
2 c. flour
1 tbsp sugar
1 tsp salt
1/2 c. shortening
1/4 c. soft butter
1 egg yolk (save the egg white to brush the crust edge and crust toppings)
1/2 c. milk
1 tbsp lemon juice
Mix dry ingredients (flour, sugar, salt). Cut in butter and shortening with a pastry cutter or your method of choice until the mix has small pieces.
Separately mix the egg yolk, milk and lemon juice and whisk.
Slowly add the liquid to the dry ingredients while mixing with a fork. If too dry, add a little more milk. If too moist, add a little flour. Work it with your hands to get it to all come together.
Separate into two portions. This recipe will use one portion for the pie and a small amount of the other 1/2 if you want to embellish it. You can save the other half for another pie.
Place the dough between two pieces of wax paper dusted in flour. Roll the dough out by starting in the middle and rolling out to each side over and over until it's the right size for your pie plate.
Sweet Potato Pie
2 large sweet potatoes (orange or purple)
1/2 c. white sugar
1/2 c. packed dark brown sugar
2 large eggs lightly whisked
1/4 c. heavy cream
3/4 tsp ground cinnamon
1/4 tsp nutmeg
7 tbsp unsalted melted butter
Preheat oven to 350
Peel and dice the potatoes into approx 1″ pieces. Bring a large pot of salted water to boil. Add potatoes and then reduce heat and simmer until tender, approx 20 min. Drain and rinse under cold water to cool them down enough to handle.
Transfer to a food processor and blend the potatoes first. You will need approx 2 1/2 cups of the potatoes so you can either just wing it with whatever you have or take them out and measure so you have exactly that amount. I first batch I made had a little less than 2 1/2 cups and it had more of a custard like texture that I enjoyed.
If the sweet potatoes are not back in the food processor, put them back in. Then add sugar, brown sugar, eggs, heavy cream, cinnamon, nutmeg and butter. Mix until smooth and creamy. Scrape sides as needed.
Spread filling into pie crust, smoothing out the top. Place pie plate on a baking sheet to catch any spills and then place into oven.
Bake approximately an hour until the pie is set and the middle is still slightly jiggly. The crust should be golden brown.
As an option, you can cut out the crust into shapes and bake to decorate the top. Cut out the shapes and then brush them with the egg white. Bake them in a separate baking sheet with the pie. They will bake faster, so keep an eye on them.
Cool on wire rack. Place in fridge until ready to eat. As another option, serve with whipped cream.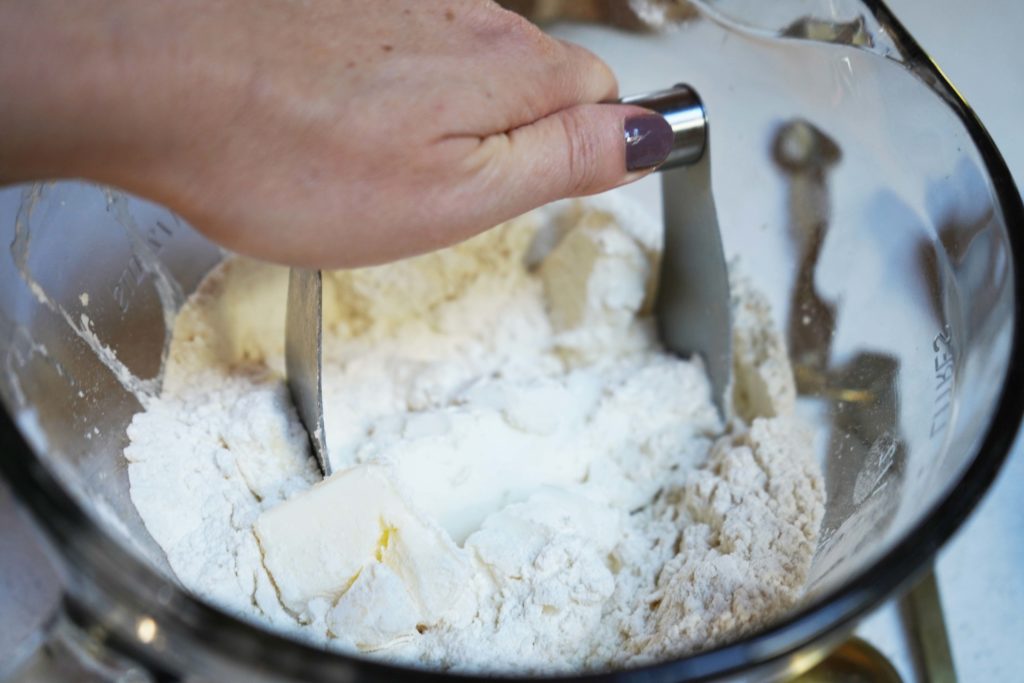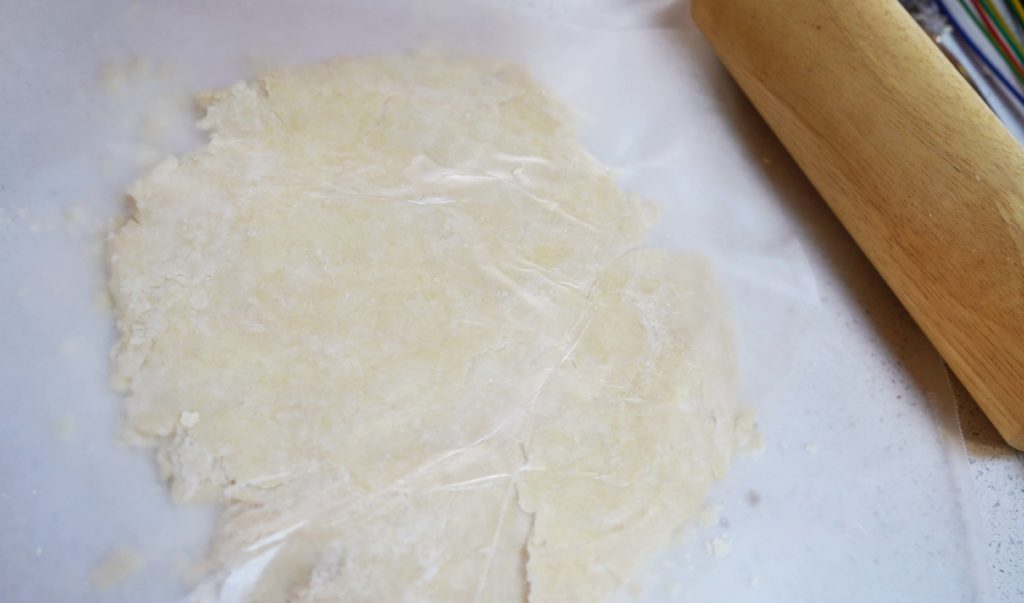 These fun cookie cutters are from Williams-Sonoma (not sponsored! I don't do sponsored posts). I picked these up one Black Friday for a discount. I love that they don't just cut the shape, they also add another layer of texture. I cut these out, then placed them on parchment paper on a baking tray. Brush them with egg white and then bake about 10-15 min until golden brown. Keep an eye on them and take out the ones that are golden brown if you are waiting for others to brown. After the pie came out of the oven I placed the leaves on top to decorate it.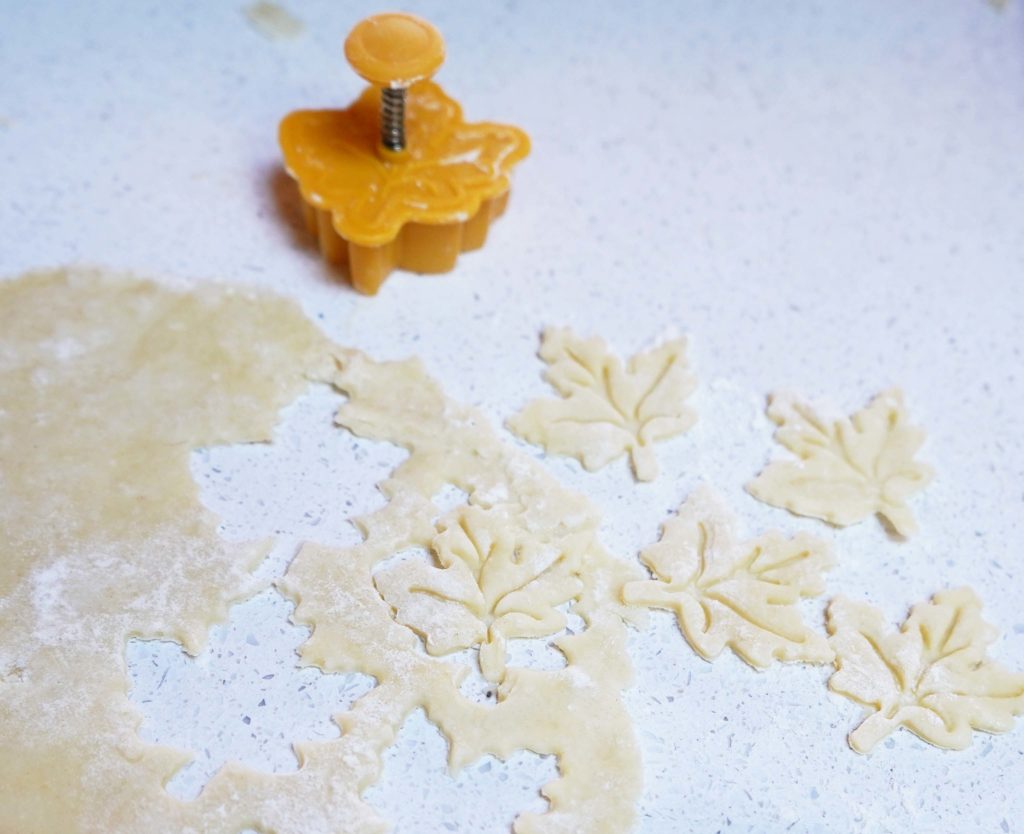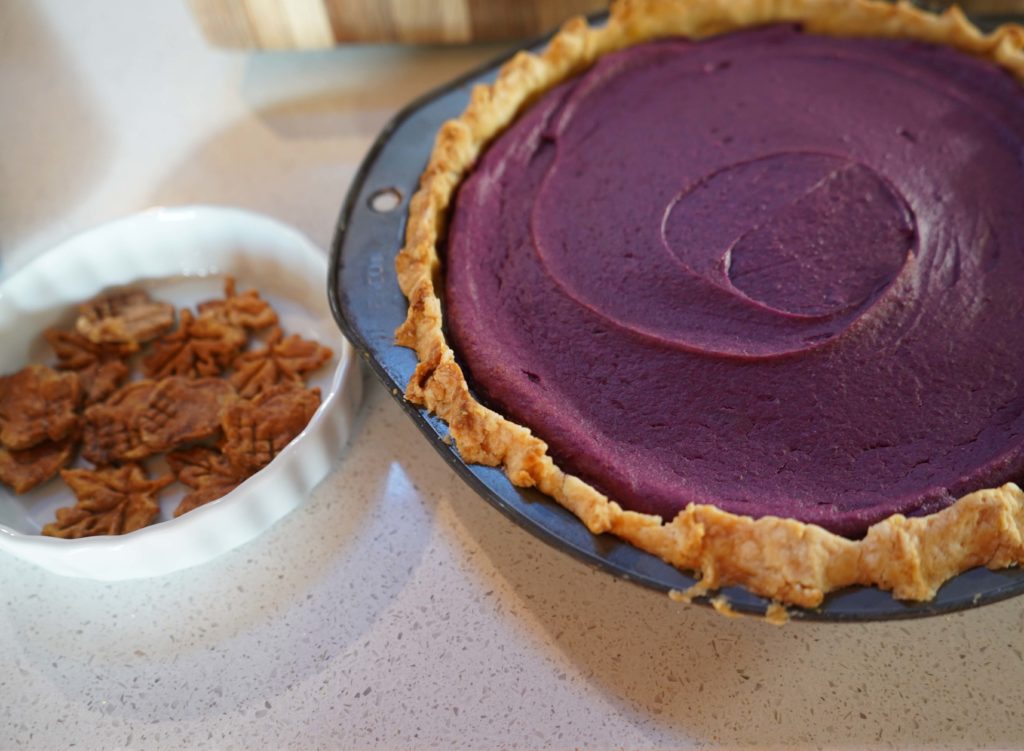 I guarantee* that if you show up at your next holiday gathering this fall or winter you will impress the heck out of the guests. I've been eating this for breakfast every day and am enjoying every minute of it.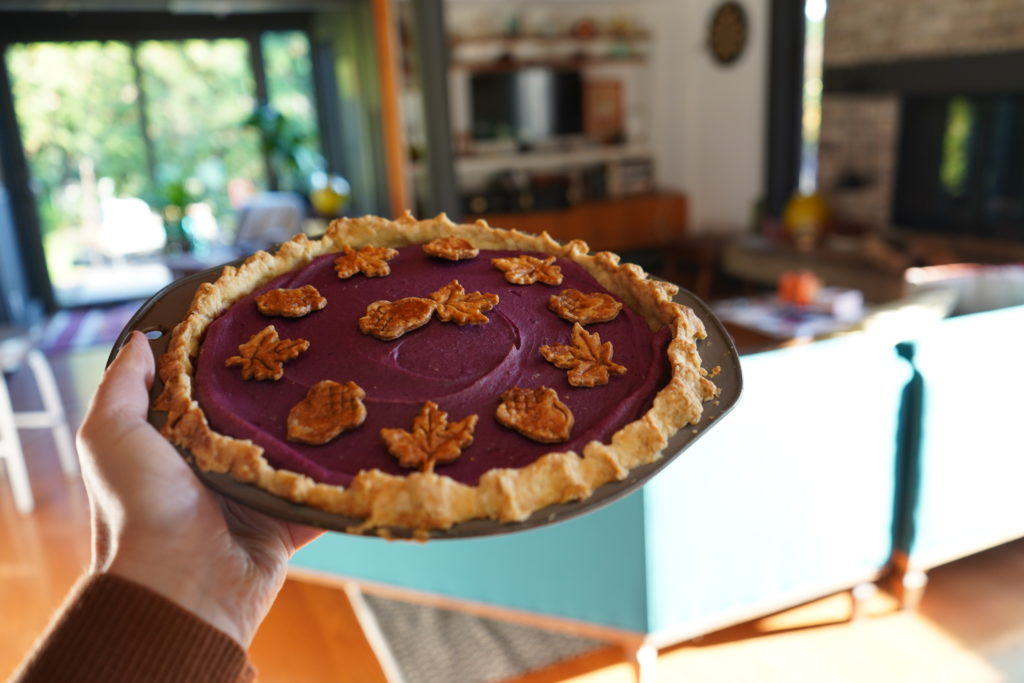 *Brandi (who does not guarantee anything 🙂 )