Yes, this is usually a design blog, but lately I've been doing a lot of cooking and thought you may enjoy hearing about it. Usually my husband Dave cooks just about every meal, and is REALLY good at it. This year I've gotten more into cooking since I've been so bored (thanks COVID). [Public Service Announcement: Stay home as much as possible, and wear a mask while out so we can keep this virus in check!]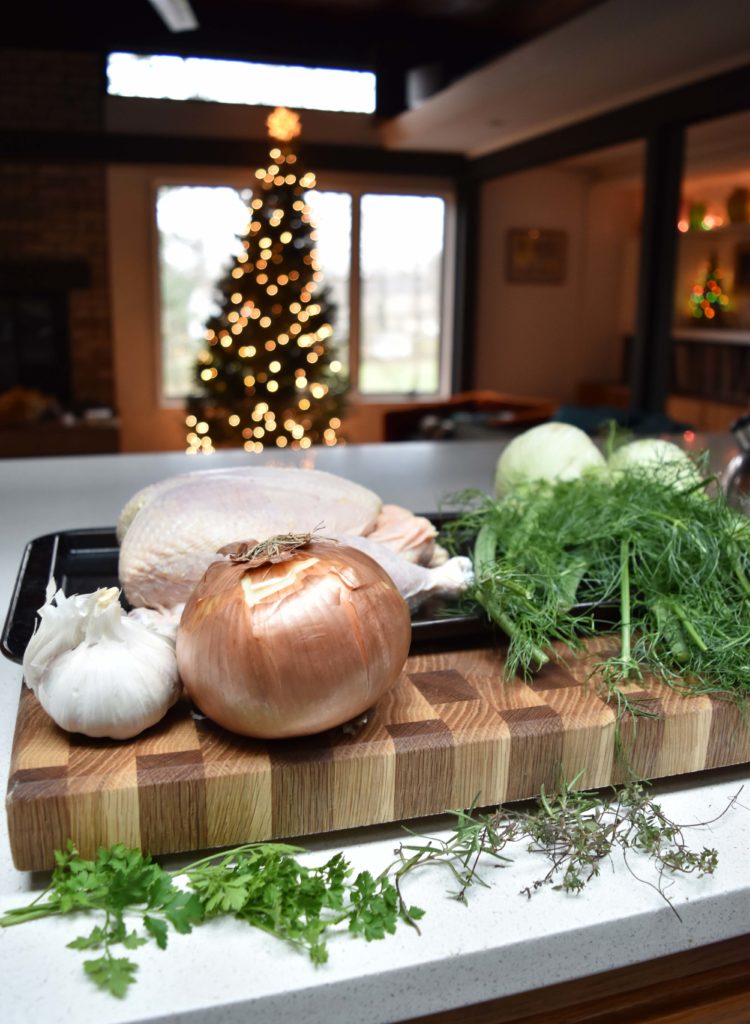 In the past when I've cooked I tried to find quick and easy recipes, but these days I look for recipes that take a long time to make. Like I said, I've been bored and I love food, so I might as well use my time to make delicious food.
This is the second time I've made this recipe, Roast Chicken with Fennel from the cookbook The Italian Cooking Encyclopedia. I linked the book from Thriftbooks, which is my new favorite online bookstore, everything is used and way cheaper than new! If that's not your thing, you can find it at your favorite bookstore. I've had this book for a very long time and it has SO many great recipes. I highly recommend it, especially if you love Italian food. The first time I made this recipe I followed it very closely to as it was written, but this time we made some tweaks (added a brine step and omitted the bacon).
You may be thinking, fennel? If you've never had it, don't be scared, because you will LOVE how it tastes after it's been baked with chicken. I don't like the anise/licorice flavor, but you don't taste it once it's cooked in this way.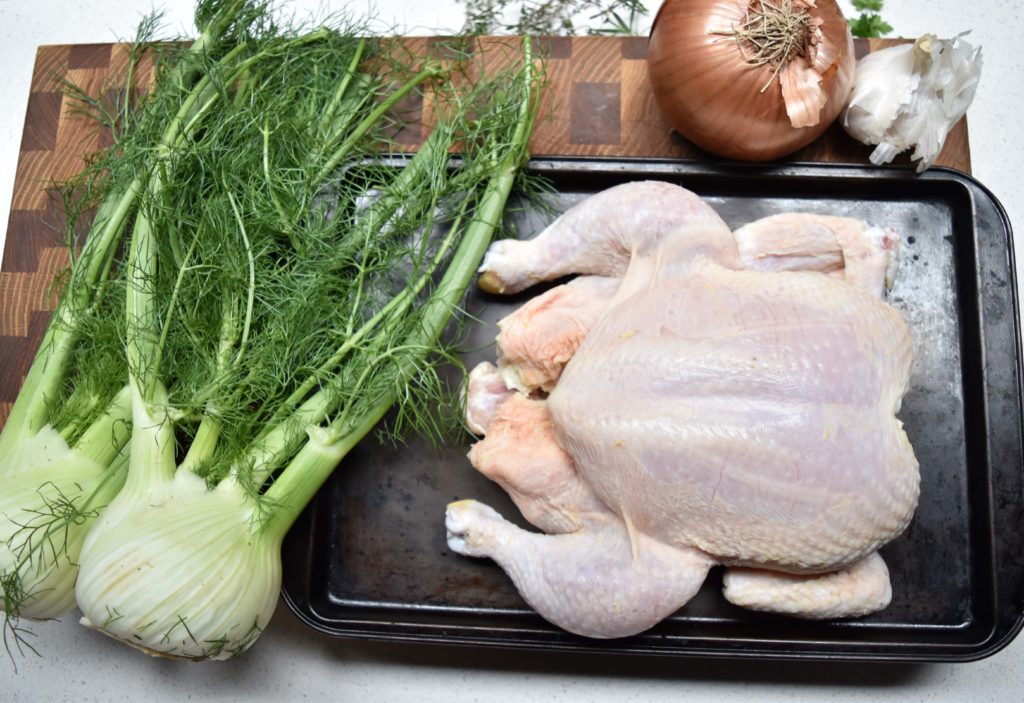 Roast Chicken with Fennel: Serves 4-5
Optional Brine Step: If you do this you will have to start the recipe the evening before you make it. Add salt, brown sugar, garlic cloves, herbs, fennel fronds, citrus peels, peppercorns to a large pot full of water. Heat to dissolve everything and then let cool. To speed up the cooling process you can add ice. Add the chicken to the cooled brine (it should cover the chicken). It's important to rinse the chicken in water after you take it out, and pat it dry. Let it sit in the fridge uncovered to really dry out the skin. We brined it overnight (approx 10 hours), took it out in the morning and left it in the fridge until we made it for dinner. This whole step is optional, but will make the chicken extra juicy and moist.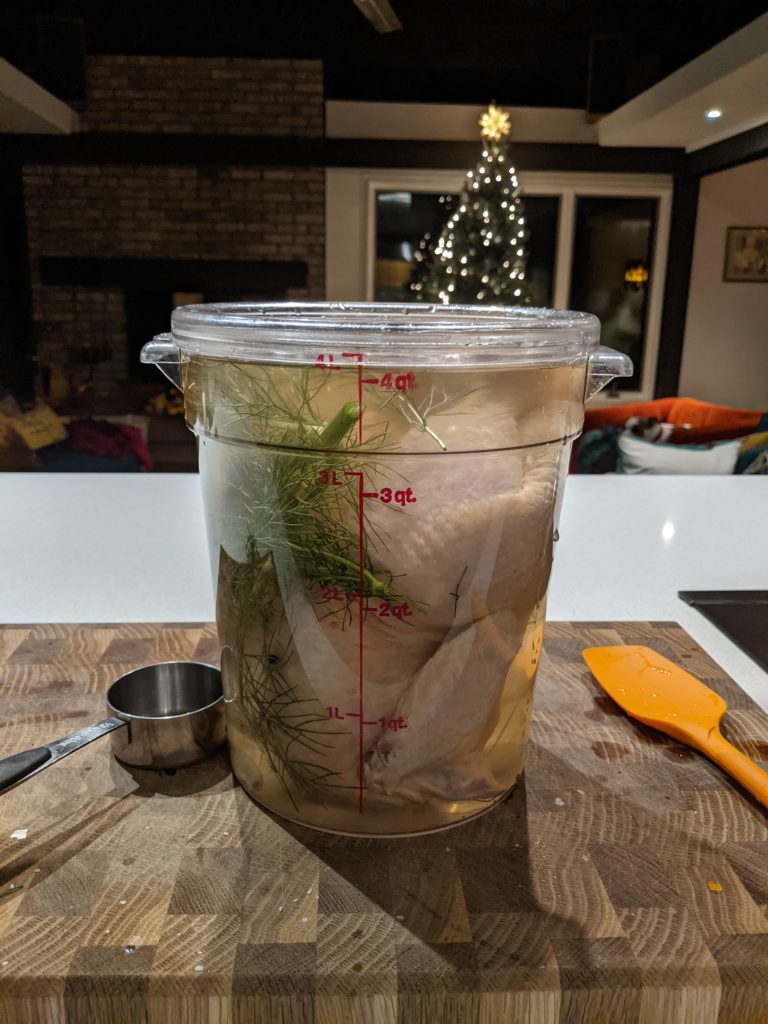 Ingredients:
Whole chicken (or chicken parts) (3-4 lbs)
Two Garlic Cloves, finely chopped
Two fennel bulbs, quartered. Fronds also required.
Large Onion or two small
Salt
Pepper
Herbs (Whatever you have on hand, I used Rosemary and Parsley)
1/2 cup olive oil
pinch nutmeg
1/2 cup dry white wine
Preheat oven to 350 C.
Rinse and pat the chicken dry (or pull it from the fridge if you did the brine and dry step above). Add salt, and pepper to chicken cavity. Place half of the onion (quartered) and herbs into the chicken cavity. Rub olive oil all over the chicken.
Chop fennel fronds from one of the fennel bulbs and mix with finely chopped garlic, salt, pepper, nutmeg, and a few tablespoons of olive oil. Mix together then rub the mixture over the chicken.
Place a few tablespoons of olive oil in the botton of the roasting pan or dutch oven. Add the quartered fennel and the rest of the quartered onion to the bottom of the pan. Place chicken on top.
Bake at 350 for 30 min and then baste. Add the wine and return to the oven for another half hour. Remove to baste and then cook until done (approximately another hour, but each chicken will differ). We use a thermometer to determine when it's done. Carve chicken and serve with fennel and onion. This also goes well with roasted or mashed potatoes.
Extra bonus points: you can place the chicken carcass in a freezer bag and save to make chicken stock.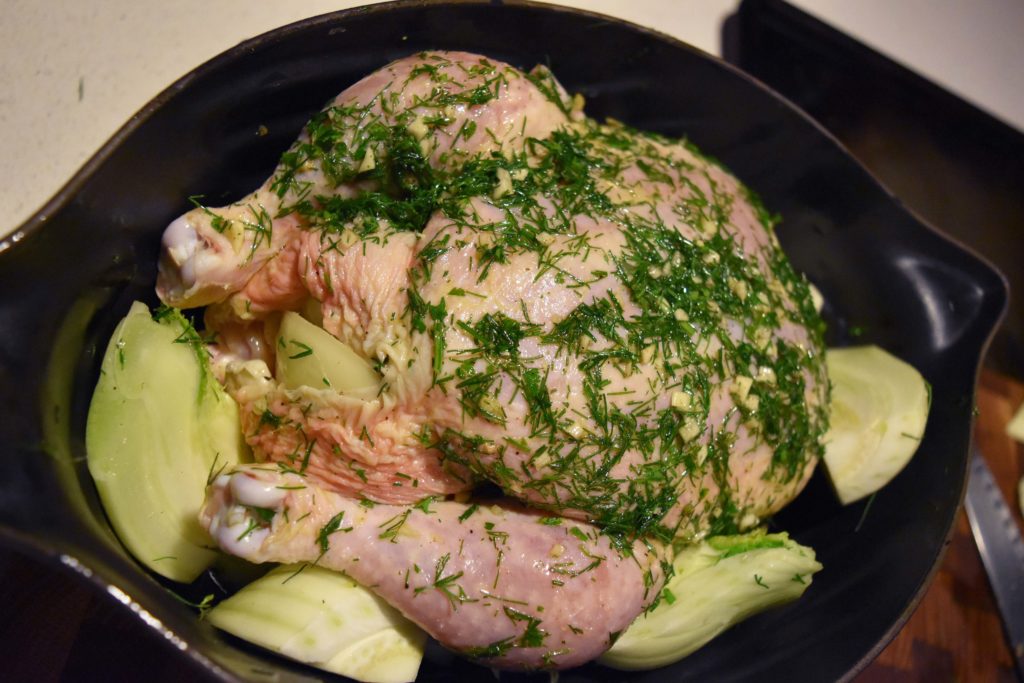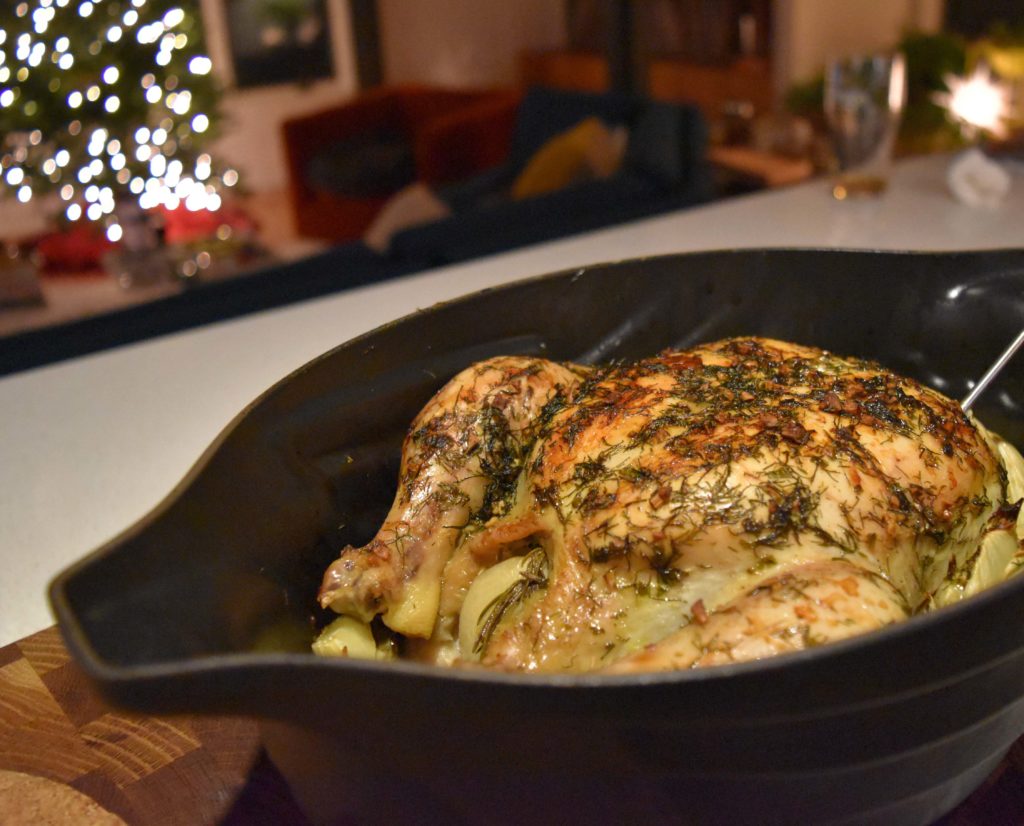 Here's the original recipe.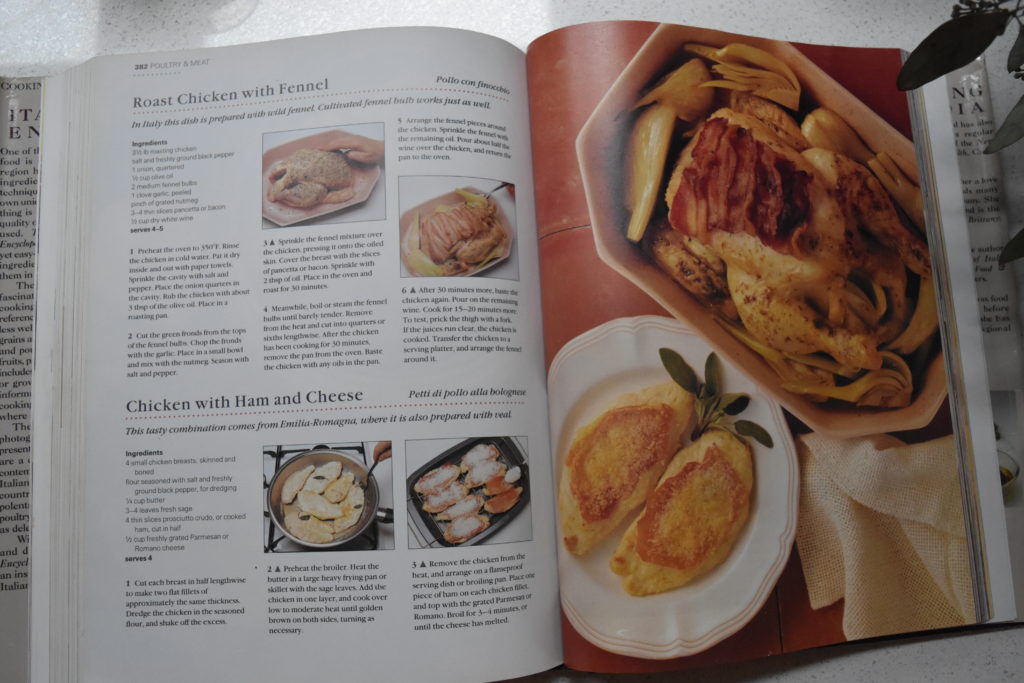 Let me know if you make this and what you think of it.
*Brandi